Reliable Upholstery Cleaning In Ipswich At A Reasonable Price. Contact Now!
A couch no doubt increases the beauty of your living room, but for that, it needs to be spotless and fresh-smelling. A dirty, stained, and foul-smelling couch can ruin your whole reputation in front of your guests and visitors. Besides, a dirty couch also becomes the home of disease-causing bacteria, viruses, dust mites, and pesky moulds! With expert and certified couch cleaners in Brisbane, we at Karls Couch Cleaning are dedicated to offering you an impeccable upholstery cleaning Ipswich service that removes deep-seated dirt, stains, and foul odours right away, leaving behind a fresh-smelling sparkling couch. Contact us today on 07 4243 4179!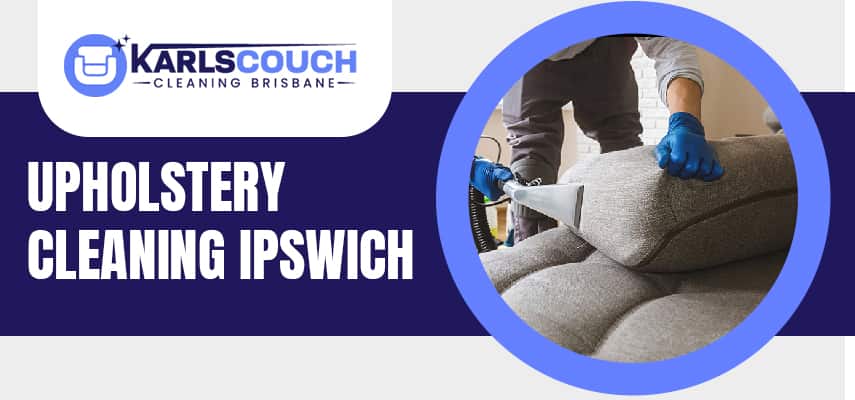 What Makes Professional Upholstery Cleaning Beneficial?
Acquiring professional upholstery cleaning services comes with several benefits. The top-notch ones include:
Increased Couch lifespan: Professionals thoroughly clean couches, preventing premature wear and tear, and adding more years to their lifespan.
Spotless Cleaning: When your couch is handled by experts, you can expect it to be spotless with no trace of dirt or stain.
Eliminates germs & allergens: Professional upholstery cleaning also eradicates all-present germs, dust mites, moulds, and allergens, preventing allergies.
Time-saving: Professional couch cleaning services not only save you time and effort but also offer superior cleaning results than DIY approaches.
Emergency Upholstery Cleaning Service On The Same Day
Are guests coming over to your place? Or do you need to plan a last-minute event at your home? Worry not because you can get your couch cleaned on the same day with Karls Couch Cleaning. Whether you have a leather couch, a fabric couch, or a microfiber one, our expert couch cleaner can restore their former shine in no time! Book our experts today for residential and commercial upholstery cleaning services.
For emergency purposes, our experts appear at your door within 24 hours of booking. Here are some services we offer on the same day of booking:
Our Amazing Cleaning Services For Couches And Upholsteries
We are well-known across Ipswich for our high-quality cleaning services. Here is the list of top-notch services that we provide:
Couch Steam Cleaning
If your upholstered couch has obstinate deep-rooted dirt and grime, our expert couch cleaners offer a professional couch steam cleaning service that removes all traces of dirt, dust, and dust mites right away restoring the former glam of your couches.
Couch Stain Removal
Whether it's a water-soluble stain, oil-based stain, pet urine stain, red wine stain, or a food or beverage spill, we can help clean all old or new stubborn stains in the blink of an eye with our amazing couch stain removal.
Couch Dry Cleaning
The extra delicate fabrics can go through a lot of wear and tear when they come in direct contact with water. So we offer our special dry cleaning solutions to clean fine fabrics like silk and leather without wetting them.
Couch Odour & Mould Removal
Pet urine, food spill, and long-term exposure to dirt and moisture can lead to mould growth and foul odour in your couches. It could result in skin rashes, allergic reactions, and respiratory ailments. We not only remove mould but also deodorise your couches.
Couch Shampooing
To give your couches a polished appearance, we offer a comprehensive couch shampooing and conditioning service that removes stains, dirt, and allergens, making your couches spotless and allergen-free.
Couch Scotchgard Protection
To retain the shine and gloss of your couches after our professional upholstery cleaning Ipswich treatment, you can apply for Couch Scotchgard Fabric Protection on your couches to prevent them from catching any further stains or dirt.
Couch Pet Odour Removal
If you have furry friends at home, you can't push away the fact that you need to deal with pet urine stains and odour. But as long as we are with you, you won't ever have to worry about those issues!
Fabric & Leather Couch Cleaning
Both the fabric and leather couches need special attention. Any wrong fabric couch cleaning and leather couch cleaning technique can result in premature wear and tear. So assessing the Upholstery fibre, we chalk out fine-tuned cleaning treatment, restoring their former appearance.
Microfiber Cleaning Service
A dirty and stained microfiber couch is pretty tricky to clean at home. But you can make it spotless and lustrous again with the help of our experts! Infusing our expertise and advanced cleaning techniques, we bring back the long-lost glam of your microfiber couches.
Office Chair Cleaning
Maintaining cleanliness and hygiene inside office premises is much more important for better workflow. And to keep your office chairs clean, odour-free, and germ-free, our expert couch cleaners offer a complete office chair cleaning service, promoting hygiene inside your office.
Microsuede Couch Cleaning
In order to efficiently remove dirt, stains, and allergies from your microsuede furniture, our microsuede sofa cleaning crew is equipped with the most latest cleaning methods and safe cleaning products. Contact our experts today and get a free quote.
Lounge Cleaning Ipswich
Are you worried about cleaning your dirty and greasy lounge? Get it cleaned impeccably with our highly-skilled couch cleaners! Using suitable lounge cleaning solvents, we make your lounge new-like again in just a matter of hours.
Types Of Fabric Upholstery Our Professionals Clean
Linen Upholstery Cleaning
Wool Upholstery Cleaning
Silk Upholstery Cleaning
Cotton Upholstery Cleaning
Rayon Upholstery Cleaning
Nylon Upholstery Cleaning
Polyester Upholstery Cleaning
Velvet Upholstery Cleaning
All Types Of Upholsteries Our Professionals Clean
With years of experience, competence, and skills, our professional cleaners can clean a wide range of upholstery. To name a few:
Cabriole Sofa Cleaning
Two Seater Sofa Cleaning
Microsuede Sofa Cleaning
Chesterfield Sofa Cleaning
White Leather Sofa Cleaning
Modern Sofa Cleaning
Throw Pillow Sofa Cleaning
Sectional Sofa Cleaning
Armchair Cleaning
Tuxedo Sofa Cleaning
Microfibre Couch Cleaning
Three Seater Sofa Cleaning
Lawson Sofa Cleaning
Lounge Cleaning
Side Skirt Couch Cleaning
Leather Sofa Cleaning
Couch Arm Cleaning
Camelback Sofa Cleaning
Corner Skirt Panel Cleaning
Recliner Cleaning
Ottoman Cleaning
Dining Chair Upholstery Cleaning
Step-By-Step Approach Our Professionals Undertake To Clean Your Upholstery
Our couch and sofa cleaning Ipswich program involves four steps, which include:
A thorough assessment to figure out the current state of your couch and customised treatment is required.
Pre-treatment of the couch to break down oils from the deep-rooted stains and dirt.
The third step involves dry/steam cleaning it using suitable cleaning agents based on the assessment report.
Then we dry your couch if it is steam cleaned, using advanced turbulence fans.
Finally, our experts disinfect and deodorise your couch leaving it spotless and nice-smelling.
Quality Upholstery Cleaning Services In Ipswich And Its Neighbourhood
Holding our roots in the couch cleaning industry for more than 20 years, we are proudly serving in and around Ipswich. Since we mostly team up with local authorized couch cleaners, we can offer same-day upholstery cleaning Ipswich services. Check out the top neighbourhoods of Ipswich where we serve:
Why Should You Choose Karls Couch Cleaning Professional Team?
Are you still in the dilemma of whether or not to hire us? Here is why obtaining our upholstery cleaning Ipswich services can keep the value of your money:
Certified and highly-experienced couch cleaners
Use of eco-friendly couch cleaning products and techniques
Available 24/7, even on weekends and public holidays
The advanced couch cleaning and drying tools and methods
Complete customer satisfaction at reasonable price rates
FAQs
MY COUCH HAS STAINS CAN YOU MAKE IT CLEAN?
Definitely, yes. We are experts in removing stains from couches. Any stains that are currently on your sofa can be removed by our cleaners. We have a skilled cleaning crew that uses an excellent technique to get rid of stains.
DO YOU SANITIZE THE UPHOLSTERY TO REMOVE GERMS?
We'll completely clean and sanitize your sofa in addition to getting rid of germs. We will use effective cleaning material to give a pleasant smell to your couch or upholstery.
DO YOU USE ECO-FRIENDLY CLEANING SOLUTIONS?
Our couch cleaning services are environmentally friendly and don't make people or animals allergic to anything. Simply send us a message, and we'll come over to clean your sofa and remove any stains by using our eco-friendly cleaning solutions.
HOW MUCH DOES UPHOLSTERY CLEANING COST?
The price for cleaning upholstery can vary based on factors such as the size of the upholstery, the type of fabric, the degree of soiling, and the chosen cleaning method. Professional services provide a range of pricing options.
Location: Ipswich QLD 4305, Australia