Improving the beauty of your house, upholstered furniture acts as a central location for both relaxation and daily activities. Upholstery gathers allergens, dust, grime, stains, and smells with time, which may be harmful to your health. This also detracts from the overall aesthetic appeal of your furniture. Frequent upholstery cleaning is essential for maintaining the longevity and beauty of your furniture. There are many ways and strategies used to clean upholstery at home. And, you will get the proper knowledge about cleaning your upholstery.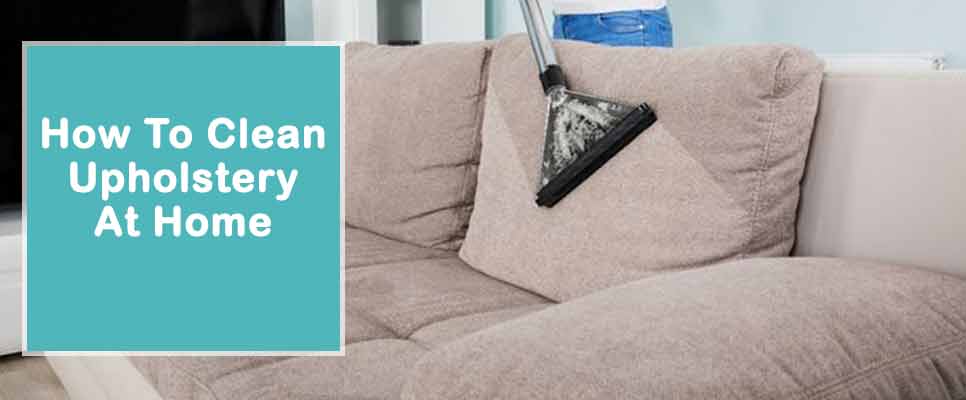 Upholstery Tags Are Important In Cleaning- So Don't Remove Them
It is compulsory to leave upholstery tags on your furniture because they are essential for proper cleaning and upkeep. By using the tag information, you will definitely know how to clean upholstery at home. They frequently come with rules that specify how to take care of, clean, and preserve the material. According to the instructions on these tags, you may avoid any damage, discolouration, or shrinking. You can prevent issues that could result from using the wrong cleaning techniques.
Upholstery Fabric Cleaning Codes And How To Use Them For Cleaning
It is crucial to understand fabric cleaning standards to properly maintain upholstery. These codes, which offer instructions on how to clean upholstery at home, are normally located on upholstery tags. The following are common fabric washing codes along with their definitions:
W (Water): Water-based cleaning treatments, such as upholstery cleaner or light detergent, can be used to clean fabric.
S (Solvent): Steer clear of water-based cleaning supplies and exclusively use solvent-based ones.
WS (Water/Solvent): This tag means that you can clean upholstery with both techniques water and solvent-based cleaners.
X (Vacuum Only): No liquid cleaning techniques should be used; instead, the fabric should only be lightly brushed or vacuumed.
By being aware of these regulations, you can use the proper cleaning technique and keep your upholstery's integrity and beauty intact.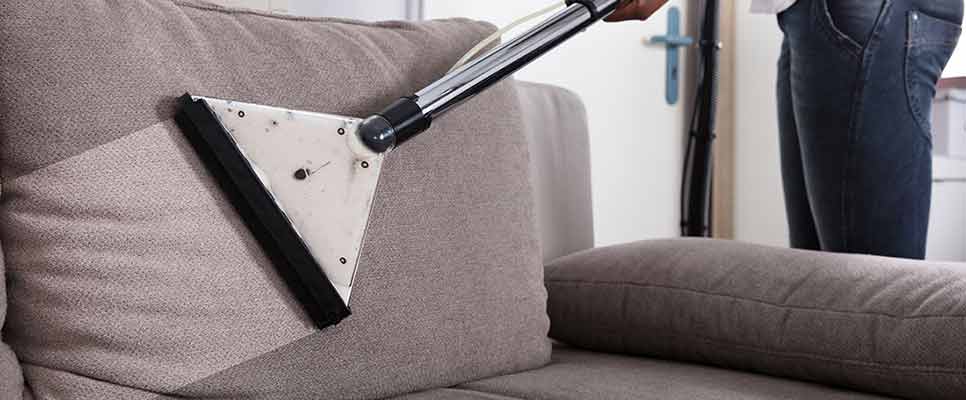 Step By Step Guide on How To Clean Upholstery At Home
Appearance and texture of your furniture with upholstery cleaning may improve the sanitary and welcoming sense of your living area. Here is how to clean the upholstery properly so that your treasured possessions stay in top shape: a step-by-step instruction.
Getting Ready for Cleaning
Assemble Supplies: Assemble the items required for cleaning. Collect a spray bottle, clean cloths, a bucket, a gentle brush, upholstery cleaner, light detergent, and white vinegar.
Examine the Fabric Tag: For cleaning guidelines, consult the fabric tag attached to the couch. The suggested cleaning technique (e.g., W, S, WS, or X) and any other relevant details will be specified.
Sweeping
Start with Dry Cleaning: It is usually a good idea to start by giving the upholstery a thorough vacuum, regardless of the cleaning code. Dust, debris, and grime may be eliminated by using the brush attachment. Observe seams and nooks with particular attention when you do upholstery dry cleaning.
One-time Testing
Do a Spot Test: To make sure the cleaner doesn't harm or discolour the upholstery, spot-test the upholstery before using any cleaning solution. Spot-test in accordance with the directions on the fabric tag.
Removal of Stains
Prioritise Stains: Take care of each stain separately if there are any noticeable ones on your upholstery. Using a clean cloth, dab away any liquid stains; for solid or sticky materials, use a spoon to carefully scrape them off. Avoid rubbing as this may cause the stain to seep more into the cloth.
Make Use of the Correct Cleaner: Determine the best upholstery cleaning technique (solvent- or water-based) based on the fabric tag and the spot test. Using a clean cloth, gently dab the discoloured area with a tiny quantity of cleanser. To stop the stain from spreading, work from the outside edges towards the centre.
Rinse with Water: Use clean water to rinse the cleansed area after upholstery stain removal. To get rid of any last bits of cleaning solution, blot it with a moist towel.
All-purpose Cleaning
Get the Cleaning Solution Ready: Use a bucket to combine a small amount of water and mild detergent for water-based cleaning (W or WS). Use a solvent-based upholstery cleaner as directed by the manufacturer for solvent-based cleaning (S).
Apply the Cleaning Solution: Wet a clean cloth somewhat but not completely by dipping it into the cleaning solution and wringing it out. Wipe the surface of the upholstery gently. It is always best to blot rather than rub upholstery. Rubbing may cause stains or dirt to spread and harm the fibres of the cloth.
Towelling Off and Wiping
Rinse with Clean Water: To get rid of any detergent or cleaning solution residue, rinse the cleansed areas with a clean, moist towel after washing.
Use White Vinegar: To clean with water (W or WS), fill a spray bottle with equal parts water and white vinegar. To get rid of smells and balance out any detergent residue, lightly spray the upholstery.
Dry Completely: Let the upholstery air dry entirely. Till it dries, don't use or sit on the furniture. You may use fans, open windows, or an oscillating fan to direct airflow to speed up drying.
Using a Brush and Fluffing
Brush the Fabric: After the upholstery has dried, gently fluff and restore the texture of the fabric using a gentle brush. To keep the fabric looking nice, brush along the direction of the cloth's grain.
Repeated Vacuum
Final Vacuuming: To get rid of any remaining trash or particles, vacuum the upholstery one last time after brushing and fluffing.
Upkeep and Prevention
Frequent Vacuuming: Vacuum your upholstery on a regular basis to keep dirt and debris from building up. You may extend the life of your furniture by doing one easy step.
Use Slipcovers: To shield your upholstery from spills and stains, think about using slipcovers. Slipcovers are an easy method to keep your furniture looking nice and new because they are washable and detachable.
Observe Fabric Tags: Pay close attention to the washing guidelines listed on the fabric tag of the upholstery. A poor cleaning technique might cause the fabric to worsen.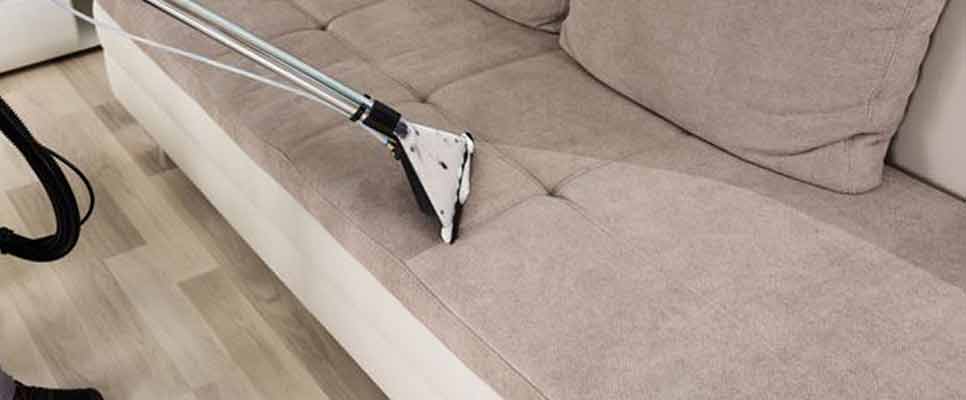 Different Types of Upholstery Stains, You Should Not Ignore
If you notice these stains on your upholstery, you should not ignore them. Because they can cause permanent marks on the upholstery fibre. You can consider DIY methods for the upholstery stain removal or you can hire expert upholstery cleaners.
Wine stains
Grease stains
Paint stains
Food stains
Pet urine stains
Blood stains
Ink stains
Vomit stains
Water stains
Chocolate stains
Oil stains
Chewing gum marks
Mould stains
Colour stains
Drink stains
Some Specific Methods For Cleaning Different Kinds Of Upholstery.
Here are some specific methods for cleaning different kinds of upholstery.
How to Use Baking Soda to Clean Upholstery
First, determine which places require cleaning. See the care label attached to the upholstery for any restrictions or special directions.
Give the upholstery a good vacuum. This will help to get rid of loose dust, crumbs, and filth.
To ensure consistent covering, liberally sprinkle baking soda over the upholstery.
Using a soft brush or your hands, carefully rub the baking soda into the cloth. Give the baking soda at least 15 to 30 minutes to settle.
After the allotted time, use a brush attachment on your vacuum to extract the baking soda from the upholstery.
To leave your upholstery looking clean and smelling great, be sure to vacuum every nook and corner.
How to Maintain a Textile Chair
A fabric chair has to be cleaned carefully to preserve its look and increase its longevity. This is how you do it:
Determine the kind of fabric used on your chair and review the care guidelines about heat, moisture, and agitation.
To get loose dirt and debris out of the chair's fabric, use a vacuum with a brush attachment.
Clean the fabric with the proper upholstery cleaner. Take care not to soak the cloth too much.
Using a towel or allowing it to air dry will depend on the cleaning solution that was used.
How to Keep a Lounge Clean
A sofa, or bigger piece of upholstered furniture, could take more time and work to clean. The following technique can help your lounge appear its best:
Find out what kind of fabric your sofa is made of and whether there are any lounge cleaning restrictions.
To get rid of any loose dirt or debris, start by cleaning the whole lounge.
Add a tiny bit of vinegar for extra cleaning power if needed.
Lightly agitate the fabric of the sofa by dabbing a clean towel with the cleaning solution to get rid of any stuck-on
To help the cloth regain its look, gently scrape its surface with a gentle brush.
Ensure that the sofa is completely dry after cleaning. When reusing it, let it air dry fully.
Ways to Maintain a Sofa
Sofas may accumulate dirt over time, therefore cleaning is essential to preserving both their aesthetic and hygienic state. How to clean a sofa is as follows:
Determine the fabric type of your couch to start, as various textiles may call for various cleaning procedures.
To get rid of any loose debris, dust, or crumbs from the sofa's surface, use a vacuum with a brush attachment.
As directed by the manufacturer, apply upholstery shampoo to the sofa's fabric.
According to the directions on the product, gently agitate the upholstery shampoo into the fabric.
Then, either extract the solution or allow it to air dry.
Use cold air to dry the couch as soon as possible for the best results.
To keep your couch fresh and clean, you might need to repeat these methods based on the fabric & level of soiledness.
How to Spot Clean a Sofa
Like sofas, couches need to be cleaned on a regular basis to keep them looking and feeling nice. How to clean a couch is as follows:
To start, determine the kind of fabric on your sofa. Various fabrics may require various methods of cleaning.
To get rid of dust and debris, use a vacuum with a brush attachment.
As the manufacturer directs, apply a suitable cleaning solution to the fabric.
According to the directions on the product, gently agitate the cleaning solution into the cloth before extracting it or letting it air dry.
Ways to Maintain Leather
Maintaining the quality and beauty of leather requires regular cleaning and conditioning. Here is how to properly clean leather furniture:
To begin with leather maintenance, ascertain the kind of leather you have.
To get rid of dust and debris from the leather surface, use a vacuum cleaner attachment with a brush. Take care not to scratch.
Upholstery shampoo and leather conditioner work well on coloured, aniline, or semi-aniline leather. Keep it dry if the leather is dyed to stop the colour from transferring.
Using a soft brush, apply the leather upholstery cleaning solution to tiny areas of the leather and gently brush it in.
To take away any extra moisture from the leather, use a dry cloth.
Use a leather conditioner or moisturiser to improve the lustre and suppleness of the leather. The appearance of your leather will last for years if you apply a conditioner on a regular basis.