Get The Best Sofa and Upholstery Cleaning Service in Brassall
Do you need your sofa cleaned fast or in a hurry? No issue! We provide same-day Upholstery Cleaning Brassall so that you can get on with your daily activities. If your couch needs cleaning, search no further—we can get rid of a wide variety of stains, including while you are there, we can visit the property and clean it. We have many positive customer testimonials, so you can be sure we'll perform a great job. Make an appointment right away by giving us a call! Whatever type of sofa you have—leather or fabric—we can breathe new life into it!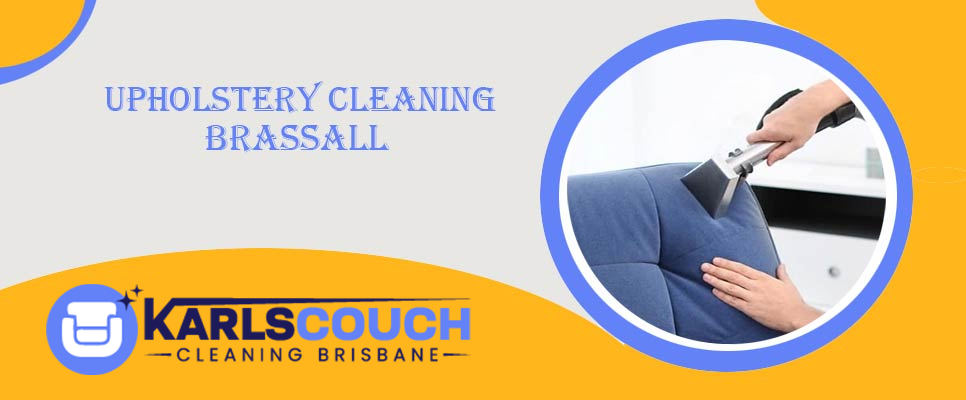 Our expert professional couch cleaners will remove the dirt and dust that can become deeply embedded in leather or fabric sofas, leaving your couch smelling fresh, looking brand new, and removing stains from usage and time. Call the Upholstery Cleaning Brassall experts at 07 4243 4179 if you want your couch needs to be cleaned. We will visit your home to thoroughly clean your sofa, making it seem brand new.
Importance Of Professional Upholstery Cleaning
Upholstery is likely to experience a lot of wear and strain, just like carpets do. The good news is that by hiring Sofa and Couch Cleaning Brassall experts, the majority of these problems may be resolved quickly and simply.
Removes odours: Professional couch cleaning removes both visible and invisible odours, leaving your upholstery not only looking fantastic but also smelling great.
Getting rid of stubborn stains: If you wipe up spills right away, stains are rather simple to remove. Professional upholstery cleaning can remove deep-seated stains by cleaning them thoroughly.
Enhances the lifespan of upholstery: Did you know that you may extend the life of your upholstery by getting your upholstery cleaned professionally and regularly? There is a good probability that if you don't let those particles of dirt build up, your sofa will last longer in addition to maintaining its brand-new appearance.
Treatment of allergens: Usually, particles aren't very hazardous, but if they are allowed to build up, they can be for anyone with asthmatic, eczema, or breathing difficulties, as well as smaller children. Regular upholstery cleaning will help you reduce the number of allergens and debris that are present in your upholstery.
Revitalize and Refresh: Our Comprehensive Upholstery Cleaning Services
Take The Advantage of Our Amazing Services
Couch Steam Cleaning
couch steam cleaning is an organic cleaning agent that is effective and leaves no hazardous residue on surfaces or stains on garments. The heat of steam, even when released at modest pressure, is sufficient to purge your home of both visible grime and grease as well as invisible bacteria and allergens. Nearly anywhere in your house or office, yard, automobile, or trailer may be cleaned with a steam cleaner for a variety of purposes.
Couch Stain Removal
Regular spotting and stain removal are included in our steam cleaning procedure. If, after cleaning, there are still stains that need additional treatments such as Heat transfer methods or spot dyeing, we will discuss these options with you right away and provide you with an estimate for the elimination of these more challenging stains.
Couch Dry Cleaning
A successful method of cleaning couches is couch dry cleaning, which is an option to steam cleaning. Consider switching back and forth between the two systems if you often have your couches cleaned.
Couch Odour & Mould Removal
Along with all the necessary facilities, we provide our customers with couch odour elimination services. We strive to make everything that we do convenient for our clients so they won't have to worry about it when they get our couch odour removal & mould removal.
Upholstery Shampooing
Sofa and couch shampooing is a difficult chore, so you might call experts to step up and complete this task with efficient solutions. They'll finish this task faster than you thought.
Couch Scotchgard Protection
The professionals will cover the sofa with a layer of Scotchgard Protection to shield it from further stains, filth, and mould.
Sofa Pet Odour Removal
The sofa does have a bad scent inside it because pets used to sleep on it for extended periods. Here, you might ask the experts to apply efficient products and remove unpleasant pet odours from the sofa to make it sanitary once more.
Lounge Cleaning Service
The work of cleaning the lounge requires time and effort, so you might use the assistance of a lounge cleaning service to complete the task as soon as possible using ethical cleaning techniques.
Fabric & Leather Couch Cleaning
No matter if your couch is made of fabric or leather, we will clean it properly and guarantee the greatest outcomes for all sorts of upholstery, whether it is made of fabric or leather.
Microfiber Cleaning Service
It is best to hire specialists to clean your microfiber and microsuede sofas because they require careful and delicate cleaning techniques. We will perform the task in a superior and more effective manner with no damage to the sofa fabric, people, pets, or anything else in the house.
Office Chair Cleaning
You can hire upholstery and couch cleaning Brassall services to handle such jobs correctly as it is very difficult to clean all the chairs on the weekend.
Our Experts Clean All Kinds of Upholsteries
Many couches and upholstered products in a variety of textiles are offered in the market. Our professionals can clean all varieties of upholstery, including:
Fabrics
Leather
Silk
Polyester
Rayon
Microfiber
Nylon
Even so, there are additional varieties of upholstery available. You can contact us to have any kind of sofa cleaning. Everything can be handled by the Fabric Upholstery Cleaning Brassall service.
Our Complete Upholstery Cleaning Procedure
The steps that the Brassall upholstery and sofa cleaning service takes are as follows:
The expert will initially examine the sofa to ascertain its condition. The inspection helps in determining the best cleaning technique and course of action.
Following completion of the examination, cleaning procedures and treatments will begin to clean the furniture.
The specialists will then do deodorization and sanitization, which is useful for eradicating bacteria allergens and offensive odour from the sofa's interior.
After completing all of this, the service experts apply a Scotchgard protection coating to the sofa's surface to shield it from further harm.
Services For Upholstery Cleaning in Brassall and Surrounding Areas
Whether you reside in Brassall or a nearby suburb, our upholstery and Sofa Cleaning service will be able to assist you wherever you may be. Even though the members of the team or professionals are from the same place, they will just need a short amount of time to service clients.
Why Choose Us?
To help clients understand why we are the top upholstery and sofa cleaning service in Brassall, the following reasons are listed:
We have local cleaners on staff that can provide emergency and same-day upholstery cleaning services.
We have licenses to perform the specific work, and the professionals are both certified. Also, we have more than two decades of expertise in cleaning upholstery.
We offer the highest calibre upholstery and couch cleaning services at reasonable prices.
We provide customer service around-the-clock, so feel free to contact us with any questions.
FAQs
Do I need to move furniture before cleaning?
We prefer furniture to be moved, but we can assist with light furniture shifting.
How long does the cleaning process take?
The time depends on the size and condition of your upholstery, typically ranging from 1 to 3 hours.
What's the difference between steam cleaning and dry cleaning?
Steam cleaning uses hot water extraction, while dry cleaning uses low-moisture methods.
Location: Brassall, QLD 4305, Australia