Drop us a line
Book A Service
Karls Couch Cleaning Brisbane— Best Place To Get All Types of Upholstery Cleaning
Look no further if you are in Brisbane and in need of expert couch cleaning services. We work at Karls Couch Cleaning and offer excellent services for all types of couches and upholsteries. And, we are the people you can rely on to bring back the elegance and cleanliness of your couches. Our expert team for Couch Cleaning Brisbane is committed to providing excellent cleaning.
The upholstery, couch or sofa may become less appealing overall as a result of stains, odours, and general dirt accumulation over time. But our professional couch cleaners will help you to get rid of unpleasant smells and even the most stubborn stains.
We ensure a complete upholstery cleaning procedure using the latest machinery and environmentally friendly cleaning agents. So, make a quick call to avail the benefits of our upholstery cleaning company. Our dedicated team will attend to you and your couch and sofa cleaning issues.
Achieve Your Cleaning Goals With Our Customizable Services
Leave Your Couch In Good Hands: Trust Our Experts For Effective Cleaning Techniques
We are always here to assist you, so don't hesitate to share your couch cleaning concerns with us.
Do You Know Why You Need Professional Couch Cleaners?
Expert cleaners for couches and upholstery provide a number of benefits that make hiring them a wise investment. Experienced cleaners are able to assess various upholstery fabrics and materials and use the right cleaning solutions and techniques. Because they have the necessary knowledge and skills. To remove dirt, stains, allergies, and odours from upholstery, professional couch cleaners have access to specialised tools to deep clean the upholstery fabric. Upholstery cleaning in Brisbane can take a lot of time, particularly if you don't have the right tools or knowledge.
By hiring experts, you can concentrate on other crucial responsibilities because you will be saving time and effort. By avoiding the accumulation of filth & grime; that can eventually cause fabric damage, routine professional cleaning can increase the lifespan of your sofa or upholstery. Expert upholstery cleaning can efficiently get rid of dust mites, germs, and allergies from your upholstery. This helps create a healthier indoor atmosphere and is especially advantageous for people who have respiratory or allergy problems. When you want to get rid of offensive smells from upholstery, you can also expect to hire expert couch cleaners.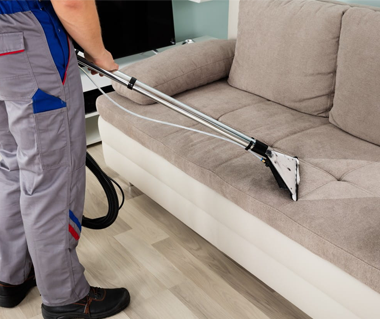 Keep Your Couch Fresh
Contact Us For A Professional Couch Cleaning: We Can Transform Your Upholstery Look
Get All Your Couches Cleaned & Sanitised At Karls Couch Cleaning
Steam Cleaning A Couch
Steam couch cleaning, also referred to as hot water extraction, cleans upholstery by using hot water and cleaning agents. The cloth is sprayed with the cleaning solution, and the filth, grime, and cleaning agents are then removed. And, to complete the process of couch cleaning, we work using a high-pressure vacuum.
Upholstery steam cleaning successfully removes stains, allergens, & filth from the fibres of the fabric by penetrating deep into the upholstery.
It works really well to get rid of odours and tough stains from the couch.
Compared to other techniques, steam cleaning takes a longer time to dry, usually a few hours to a day.
Couch Dry Cleaning
For the surface of the upholstery, professional cleaners use foam or a dry cleaning solution during the dry cleaning process. After that, it is shaken up to help the cleaning solutions lift and eliminate stains and grime. Then, we remove the residue with a vacuum.
Dry couch cleaning is a good choice for fragile couch materials that are too delicate for standard steam cleaning. Because dry solutions are easy to use and utilise very little moisture.
This option is useful if you need your sofa to be usable quickly. Because it dries rather quickly, usually in a few hours.
Steam cleaning is likely to be more successful than dry cleaning in removing stubborn stains and providing a thorough cleaning.
Odour Elimination
Couch odour treatment is the process of neutralising & getting rid of unpleasant smells from upholstery by using certain deodorising solutions.
Products for couch odour removal are made to specifically target and get rid of certain scents; such as smoking, food, and pet odours.
Professional odour treatment products are generally safe and non-toxic. It means neither the environment nor your health will be harmed by them.
To ensure that your sofa appears clean & smells good, odour treatment is frequently used in addition to other cleaning techniques.
An effective odour treatment may ensure that your upholstery continues to smell good for a long time.
Vacuum Couch Cleaning
A strong vacuum equipped with upholstery attachments, we use to extract loose dirt, dust, and other debris from the couch. We also vacuum nooks and crannies of the couch during our couch vacuum cleaning.
It works well for routine upkeep and surface cleaning, but it might not be able to get rid of stubborn stains or smells.
Our regular vacuum couch cleaning can be done quickly and simply with a vacuum. And, you can get this service more frequently at reasonable couch cleaning prices.
Lounge Cleaning Brisbane
If you are looking for top-class professional lounge cleaning services in Brisbane then you should hire our lounge cleaners. Under our cleaning services, we undertake every upholstery and piece of furniture present in your lounge. We transform your lounge totally and provide a new life to your couches and furniture. So, get in touch with us to avail lounge cleaning services with our experts that are working for the last 20+ years in this field.
Leather Sofa Cleaning
Leather couches are quite difficult to handle as a small mistake can damage your leather material. Therefore, you can rely on our professional leather lounge cleaning team. We handle your leather couches with eternal care. We provide you with the most effective leather upholstery cleaning with eco-friendly solutions in town. Rest assured, our team is certified under IICRC and is highly skilled in conducting leather sofa cleaning in Brisbane.
Fabric Couch Cleaning
Experience the ultimate fabric couch cleaning solutions by choosing our professional team. We specialize in a wide range of services designed to address all your couch-related concerns. Additionally, we offer top-notch fabric sofa cleaning services, including stain protection with Scotchgard. If you're experiencing any of these upholstery issues, don't hesitate to contact us. Our dedicated experts will promptly arrive at your doorstep, ready to provide the perfect solution for your fabric lounge cleaning needs.
Microsuede Couch Cleaning
The couch made of microsuede is stylish but not simple to keep clean. Additionally, it collects stains and lets dirt and debris settle in because the textiles of the microsuede upholstery are woven in that way. After a long time and frequent use, microsuede or any other couch becomes dusty and needs to be thoroughly cleaned. If you want it completely cleaned and restored, you might need to use our professional microsuede sofa cleaning services.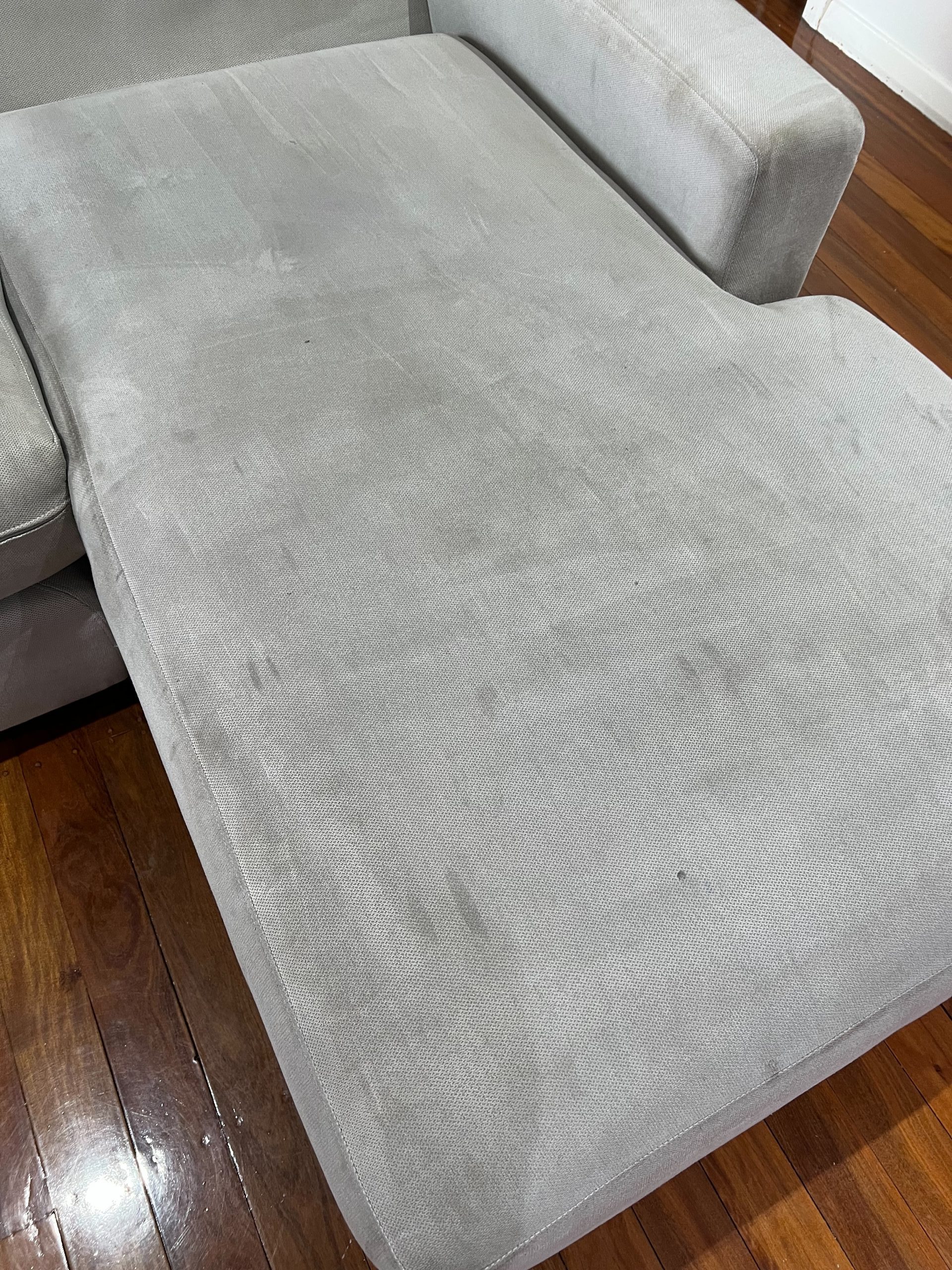 Stain Guard: Couch Stain Scotchgard Protection
For protecting your couch from spills and stains, Scotchgard coating is a popular option. We protect the couch fabric from liquid stains with the protective layer that Scotchgard applies to it. Leaking spills, you can remove by blotting them away on the surface before they have a chance to seep in and solidify. With Couch Stain Protection, spills are less likely to produce long-lasting stains. This service makes cleaning easier and lessens the need for quick and forceful stain removal techniques. There are more benefits you can avail from the upholstery stain Scotchgard protection.
Scotchgard helps keep your couch's natural appearance by avoiding stains.
It prolongs the life of the upholstery's vivid, new-looking appearance.
By reducing the harm that spills, stains, and dirt can do to your couch, Scotchgard protection can help it last longer.
It lessens the fabric's deterioration.
Scotchgard works well with a wide range of upholstery materials, including microfiber, cotton, polyester, and more.
Scotchgard works to resist liquids, which helps stop odours from forming when spills seep into the fabric and stay.
By lowering the need for regular professional upholstery cleaning or upholstery replacement, Scotchgard protection can help you save money over time.
Scotchgard can stop liquids from penetrating into the upholstery, which stops the growth of allergens like dust mites.
Scotchgard-protected couches are easy to clean and require less upkeep. Generally, regular cleaning and infrequent blotting will take care of keeping them looking nice.
You may enjoy your furniture without worrying all the time knowing that your couch is secured against frequent home spills and mishaps.
Common Couch Fabrics, Our Team Is Cleaning
We ensure that your furniture is safe with us, as we care for it with our wide choice of typical upholstery fabrics. Among the upholstery materials we clean are:
Cotton: Upholstery made of cotton is a popular choice because it is both resilient and adaptable. We rejuvenate and clean cotton upholstery to get rid of stains and bring back its vivid look.
Microfiber: The stain resistance of microfiber upholstery is well recognised. We professionally revive and clean microfiber couch fabric to maintain its brand-new appearance.
Leather: To preserve its opulent appearance, leather furniture has to be cleaned professionally. To extend the life of leather furniture, our professional leather couch cleaners clean, condition, and preserve it.
Velvet: Upholstery with velvet adds a touch of royal living. Our delicate but efficient velvet couch cleaning method keeps the velvet fabric's colour and suppleness.
Silk: Needing thorough cleaning, silk upholstery is both elegant and delicate. To preserve the gloss and smoothness of your silk upholstery, we provide expert cleaning services.
Polyester: Upholstery made of polyester is stain- and wear-resistant. Polyester fabrics, we can clean and enhance using specific techniques.
Linen: Upholstery made of linen has a clean, natural appearance. We ensure the freshness and breathability of the linen upholstery we clean.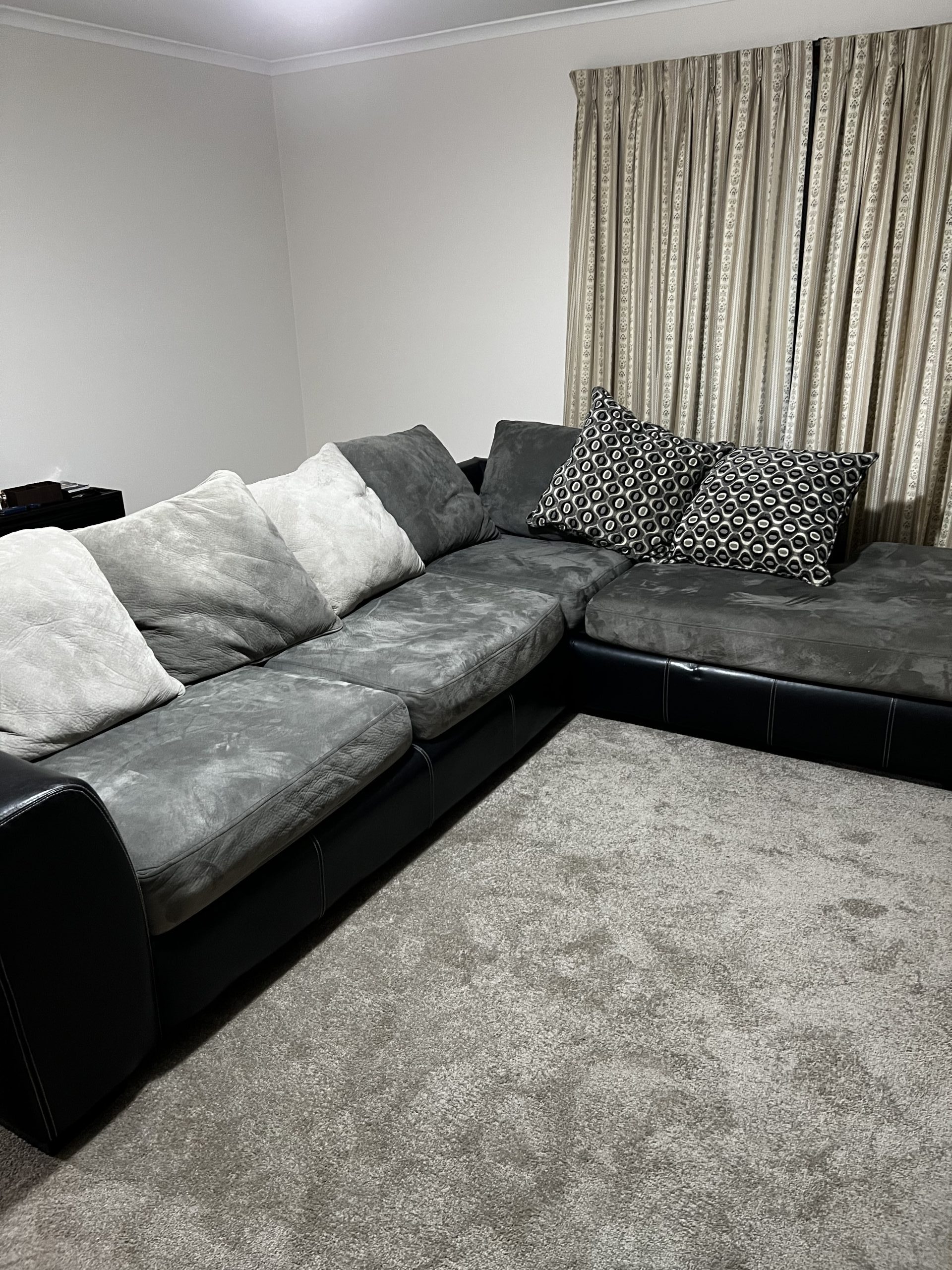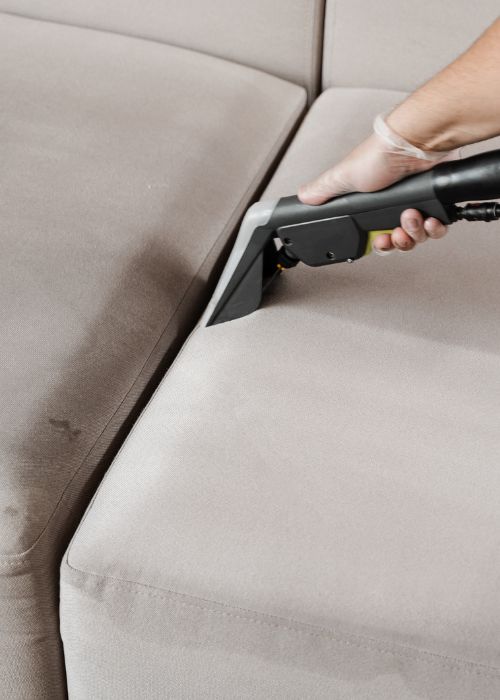 For The Best Upholstery Cleaning in Brisbane
Safe Cleaning of Fibres: Even fragile or sensitive couch fabrics may be cleaned with this service without risk of harm. Because it is safe for a variety of upholstery fabrics. It makes use of specific, gentle-on-fiber cleaning agents & techniques to stop colour fading, shrinkage, or distortion.
Deep Cleaning of Soil: Deep soil cleaning is a complete procedure that removes stains, dust, allergies, & embedded debris from upholstery. To leave your upholstery really clean, we use strong equipment and cleaning agents to penetrate deep into the fibres of the cloth.
Dry In A Few Hours: This function makes sure that, after washing, the upholstery dries fast—usually in a few hours. Quick drying makes it easier to utilise your furniture ASAP after cleaning without having to wait for a long period of time.
Allergen Removal: our upholstery cleaning involves the meticulous removal of allergens deeply embedded within furniture fabrics. Utilizing specialized techniques such as steam cleaning or eco-friendly solutions, we eliminate dust mites, pet dander, and other allergens, promoting a healthier indoor environment.
Keep Your Couch Pristine With Our Wide Range Of Cleaning Services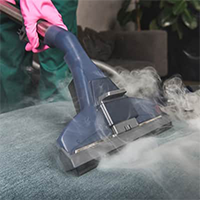 Couch Steam Cleaning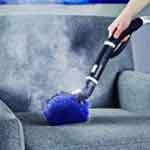 Warm Water Cleaning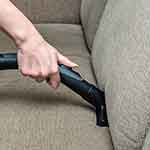 Couch Dry Cleaning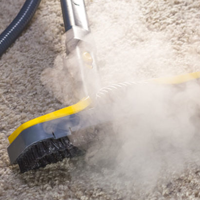 Hot Water Extraction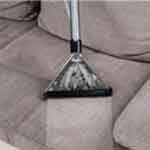 Couch Mould Cleaning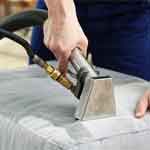 Dry Foam Cleaning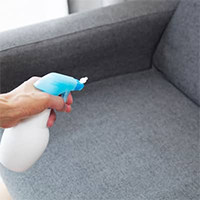 Couch Sanitization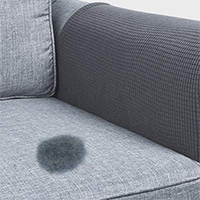 Couch Stain Removal
Our Quick & Effective Process Of Upholstery Cleaning
At Karls Couch Cleaning Brisbane, we use the most up-to-date upholstery cleaning procedures and equipment to ensure your couches are fully cleaned and returned to their original beauty. Our team follows a quick five-step cleaning process:
Inspection: The inspection of your upholstery is required to determine the type of fabric, condition, and stains. This can be helpful in deep cleaning your couch.
Surface Vacuuming: Our experts pre-vacuum the upholstery to remove any loose soil or debris. This prepares your couch for deep cleaning, odour removal and stain removal.
Deep Cleaning: We use a steam cleaning or dry cleaning solution on your upholstery to remove deep ingrained dirt, odour and stains. Our new steam cleaning machines are very effective in deep cleaning.
Water Extraction: After cleaning, we use the proper water extraction procedure and advanced equipment to remove residues and water properly. This can help in drying your couch quickly.
Final Protection: Once all is done, our experts apply a fibre-protective solution. You can also ask us for extra sanitisation and deodorisation.

We pride ourselves on being your trusted partners in couch cleaning, and we're committed to providing you with exceptional service and unmatched expertise in Brisbane, QLD.
Emergency And Same Day Couch Cleaning In Brisbane, QLD
We are a trustworthy same-day and emergency upholstery cleaning service provider in your locality. Our qualified specialists hold a Certificate III in Cleaning Operations to clean your costly leather or fabric upholstery with eco-friendly solutions. Our professional cleaners may come to your place within two to three hours of your appointment. Please call us to set up an appointment for more effective emergency furniture cleaning services. As part of our commitment to exceptional quick cleaning and care, please check out this upholstery care guide, which will help you make good decisions for your couch fabric care.
Why Choose Karls Couch Cleaning Brisbane?
Expertise: Upholstery cleaning is a speciality of our staff working for Couch Cleaning Brisbane.
Quality: We provide your furniture with exemplary cleaning services.
Eco-Friendly: We only use cleaning supplies that are safe for the environment.
Exceptional Results: Customer happiness is our first priority, and we work hard to deliver exceptional outcomes.
Reasonably Priced: Find here quality services at competitive rates with no additional expenses.
Convenience: You can schedule services to fit your schedule. We are flexible in scheduling.
Reputable: For your peace of mind related to our services, we are fully insured and licenced as well as IICRC-certified.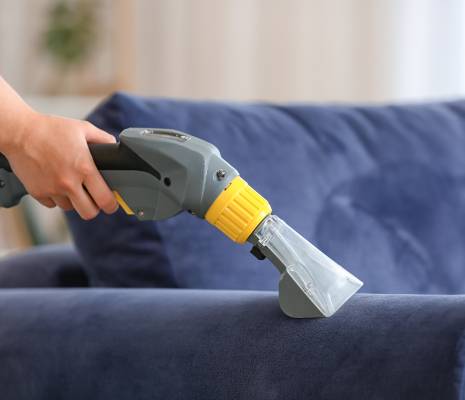 Our Upholstery Cleaning Brisbane Before and After Images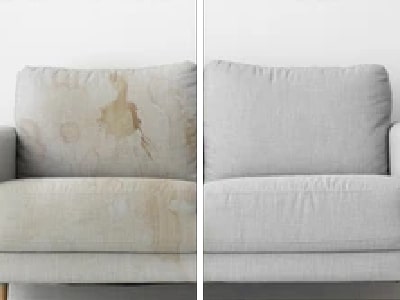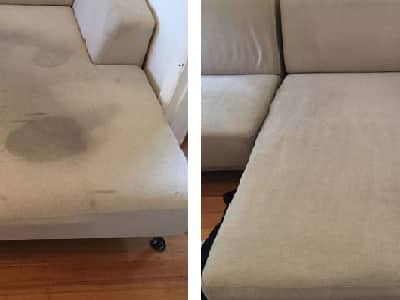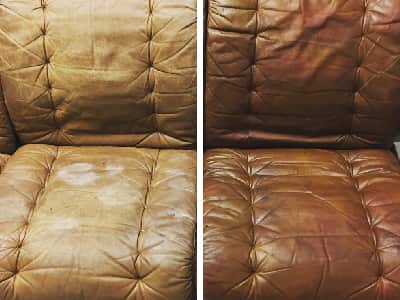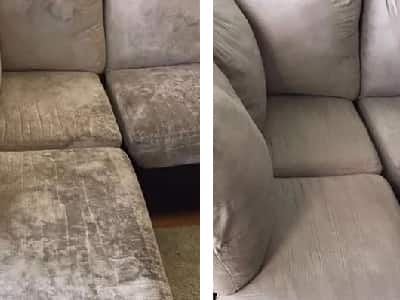 Brisbane Nearby Locations Where We Serve
Karls Couch Cleaning services are offered in all Brisbane suburbs and CBD locations. We are available in all of these locations on a local basis.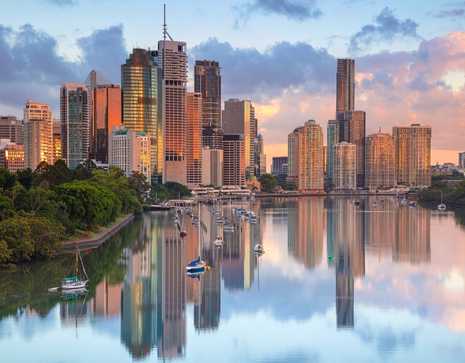 About Karls Couch Cleaning Brisbane
Karls Couch Cleaning Brisbane is your reliable upholstery cleaning partner. With more than 25 years of expertise in the field, we pride ourselves. We feel pleasure in offering high-quality cleaning methods that revitalise your furniture. Our dedicated staff is committed to providing excellent care for a variety of upholstery. Our service ensures that you and your family live in a clean and fresh atmosphere. Modern technology and environmentally safe materials are used by us to preserve the integrity and beauty of your furniture. Our goal is to satisfy our customers, and we promise to go above & beyond your expectations in terms of outcomes. For a healthier, more comfortable, and cleaner home, choose only our upholstery cleaning company.
Reviews: What Our Clients Are Saying
Robin Blagg
27 October 2023
Impeccable Service. The couch cleaning service exceeded my expectations. The team was punctual, professional, and thorough. My couch looks brand new, and the stains are completely gone. They came recommended from a friend and did a fantastic job cleaning my couches. I would recommend to anyone.
Ian Kerr
24 September 2023
I have to say that going on previous reviews I was a bit skeptical. But all in all the experience was a positive one. The tech showed up on time, was neat tidy friendly and polite. He didn't use bait and switch sales tactics and I knew exactly what I was paying for. I opted for a "deep clean" which cost an extra $30 per seat. Not entirely economical which is why I only gave 4 stars but the difference is excellent. Some stubborn marks didn't budge which I knew they wouldn't, the couch is several years old and gets thrashed by young kids, but it now looks a heck of a lot better than it did. Would I recommend these guys in the future? Yes, you could do far worse!
Cobby Rymes
10 February 2023
These guys were great…..Cobby turned up exactly on time, and Did a great job. Cheers.
FAQ's
To clean the fabric couch, we have a steam cleaner, dry cleaning equipment, and a vacuum cleaner. We select a cleaning technique and use it to make your couch clean and dry depending on the durability and fabric.
We use a particular eco-friendly and safe cleaning product. To cope with all kinds of dirt, stains, and odours, we have cleaning products that have been tried, tested, and validated.
For our cleaning services, we have adequately trained cleaners that complete their work quickly and effectively. Contact us to schedule our cleaning service, and we'll help you as soon as possible.
There are many factors that affect upholstery cleaning prices. If you want to know about the right couch cleaning cost, it would be great if you provided details about your sofa, such as its shape, size, and area. However, cleaning an old couch often costs between $40 and $150. You can also contact us directly for accurate pricing on your upholstery cleaning needs.
Yes, even on weekends and on public holidays we are available to offer our cleaning services. Just give us a call or fill up the form given above and our experts will contact you in a short time.
Couch cleaning can take anywhere from 20 minutes to an hour. It totally depends on the couch's size and condition. Moreover, if you have more than one couch to clean, the time will extend accordingly.
To keep your couch in great condition, we recommend deep cleaning it every 12 to 18 months. However, if you use your couch frequently, have pets, deal with allergies, or have stains, you may need to clean it more often.
To get rid of smells in your upholstery, you can use baking soda, a mix of water and vinegar in a spray bottle, or special enzyme cleaners. Just make sure to test any cleaning stuff on a small hidden spot first.