Best Upholstery Cleaning Service Team In Ascot
Karls team of experts is the best choice for upholstery cleaning services in Ascot. Our Upholstery Cleaning Ascot team are committed to providing high-quality upholstery cleaning services for your upholstered furniture, using the latest techniques and equipment to ensure thorough cleaning and refresh. Call us today at 07 4243 4179!
Our main cleaning method is steam cleaning, which effectively removes dirt, grime, and stains from your upholstery. We specialize in removing even the toughest stains with safe and powerful cleaning solutions.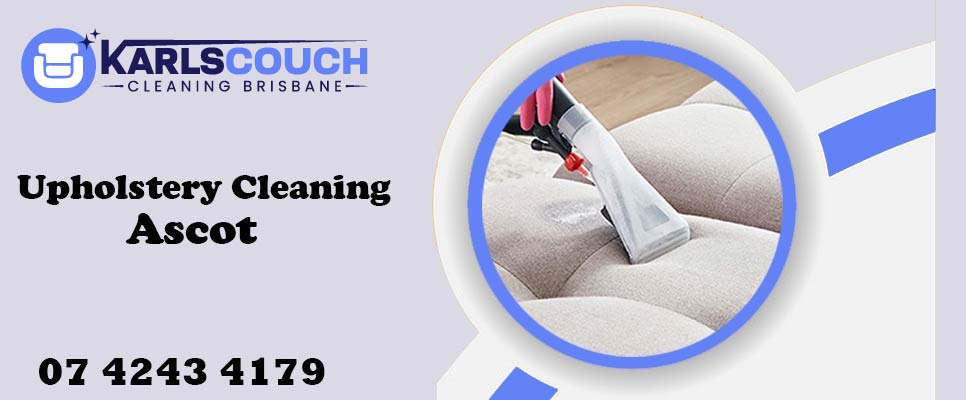 Additionally, we offer various treatments, including odour removal, mould removal, sanitisation and deodorisation, and fabric Scotchgard protection. Our team has the necessary skills and expertise to tackle any cleaning challenge, and we always strive to exceed our client's expectations.
Our Same Day Upholstery Cleaning Services
Our specialized cleaning techniques are safe for all types of upholstery materials, including delicate fabrics and leather. We only use high-quality cleaning products to ensure the best possible results and protect your furniture. If you're in need of same-day upholstery cleaning services, get in touch with us today.
We are dedicated to exceeding your expectations and providing top-notch cleaning services that restore the beauty and comfort of your furniture without delay. These are a few of the services we provide on the very day of booking:
Benefits Of Cleaning Your Upholstery
Cleaning upholstery in Ascot offers numerous benefits that go beyond the obvious visual appeal of clean furniture. In fact, regular cleaning of your upholstery has several advantages that can make a significant impact on your overall quality of life.
Cleaning upholstery creates a healthy and dust-free environment by removing accumulated dust, dirt, and allergens from the furniture.
Upholstery cleaning improves indoor air quality by eliminating pollutants trapped in the furniture, preventing respiratory problems and allergies.
Regular cleaning prevents the buildup of pollutants, enhancing the air quality in your home.
Cleaning upholstery minimizes damage to furniture by removing dust and dirt that can wear down the fibres over time, preventing cracks and tears.
Upholstery cleaning prolongs the life of your assets, saving you from expensive repairs or replacements in the future.
Well-maintained upholstery reduces the need for costly repairs or replacements.
Symptoms That Indicate That Your Upholstery Needs Cleaning
Your upholstery is an essential part of your home, providing comfort and style to your living space. However, over time, it can accumulate dirt, dust, and stains, which can affect its appearance and health. If you live in Ascot, it's essential to keep an eye out for the following symptoms that indicate that your upholstery needs cleaning:
Stains and Spills
Accidents happen, and spills can occur on your upholstery.
Foul Odors
If your upholstery has an unpleasant smell, it's time for a cleaning.
Allergies
If you or anyone in your family is experiencing allergy symptoms such as sneezing, coughing, or watery eyes.
Visible Dirt and Grime
If your upholstery appears visibly dirty and discoloured, it's time for a thorough cleaning.
Pet Hair
If you have pets, their hair can easily accumulate on your upholstery, making it look unsightly and potentially causing allergic reactions.
Wear and Tear
Over time, your upholstery may start to look worn and faded, which can affect the overall appearance of your home.
We Remove All Stains From Your Upholstery
Looking for expert upholstery cleaners in Ascot? Our experienced team can remove any stain. We handle wine spills, pet accidents, and more. With advanced cleaning technologies and products, we ensure thorough treatment and removal of coffee, tea, grease, ink, marker, blood stains, and even tough pet stains like urine and feces.
Coffee Stains
Wine Stains
Ink Stains
Grease Stains
Food Stains
Blood Stains
Pet urine Stains
Chocolate Stains
Mud Stains
Lipstick Stains
Sweat Stains
Marker or Pen Stains
Nail Polish Stains
Oil Stains
Sauce or Condiment Stains
Soda or Soft Drink Stains
Grass Stains
Rust Stains
Candle Wax Stains
Paint Stains
Discover Our Range of Upholstery Cleaning Services in Ascot
At Karls Upholstery Cleaning Ascot, we offer a variety of couch and sofa cleaning services in Ascot to suit the needs of our customers. Our experienced team is equipped to handle everything from leather or fabric sofas to office chairs and seat cushions. Below are some of the different types of upholstery cleaning services that we provide:
Leather or Fabric Sofa & Upholstery Cleaning
Our team of professionals is skilled in cleaning both leather and fabric sofas to perfection. With our specialized techniques, we can remove all the dirt and grime from your sofa and leave it looking brand new.
Leather or Fabric Couch Cleaning
Whether you have a leather or fabric couch, we have the expertise to clean it thoroughly. Our cleaning methods are gentle yet effective, ensuring that your couch is left spotless and fresh-smelling.
Fabric or Leather Chaise Cleaning
Our team can clean both fabric and leather chaises with ease. We use the latest cleaning technology to get rid of dirt, dust, and stains, leaving your chaise looking its best.
Office Chairs Leather or Fabric Cleaning
We also offer cleaning services for office chairs, whether they are made of leather or fabric.
Leather or Fabric Lounge Cleaning
Our lounge cleaning services are designed to restore your leather or fabric lounge to its former glory.
Leather or Fabric Armchair Cleaning
Armchairs can be tricky to clean, especially if they are made of delicate materials like leather.
Fabric or Leather Seat Cushion Cleaning
Dirty seat cushions can ruin the look of your upholstery. Our cleaning methods are effective at removing all types of stains and dirt from seat cushions, leaving them looking clean and fresh.
For Best Results, We Utilize This Comprehensive Upholstery Cleaning Process
To achieve optimal results, we follow a specific process when cleaning upholstery in Ascot. Our process involves several steps, including steam cleaning, dry cleaning, shampooing, stain removal, odour removal, mould removal, sanitisation and deodorisation, and fabric Scotchgard protection.
Inspection: We assess the fabric and stain severity, followed by vacuuming to remove loose dirt and debris.
Cleaning: We utilize steam or dry cleaning methods based on fabric type and soiling level, deeply extracting dirt and stains.
Stain Treatment: Stubborn stains undergo shampooing, followed by targeted stain removal for any remaining spots or discolouration.
Odour and Mould Removal: We apply safe and effective solutions to eliminate unpleasant smells and harmful mould growth.
Sanitisation and Deodorisation: Our processes ensure the upholstery is bacteria-free, fresh, and fragrant. Additionally, we offer fabric Scotchgard protection to prevent future stains and extend the upholstery lifespan.
Reasons For Choosing Us As The Upholstery Cleaning Ascot Team
We at Karls Couch Cleaning stand out for several reasons. Our experts are transparent, and we never charge hidden fees. We also use only certified and lab-tested products, ensuring that your furniture and family are safe from harmful chemicals.
Our expert team possesses unmatched knowledge of upholstery materials, enabling us to identify the optimal cleaning approach for your furniture.
We offer safeguard protection from spills and use residue-free cleaning products that leave no sticky or soapy residue.
Additionally, we use state-of-the-art cleaning equipment that's regularly maintained and updated to provide a deep and thorough clean.
When you choose us, you're choosing a team that's committed to providing you with the highest quality service. Get in touch with us today to schedule your upholstery cleaning appointment.
We Provide Our Couch Cleaning Services In Surrounding Areas Of Ascot
For quick and reliable fabric and leather upholstery cleaning services in Ascot and nearby suburbs, choose our team. We understand that accidents happen at any time and that's why we offer same-day service to our clients. With our team of experienced and highly skilled experts, you can expect efficient and effective cleaning solutions that will leave your furniture looking and feeling like new.
FAQs
How often should I have my upholstery professionally cleaned?
The frequency of professional upholstery cleaning depends on factors such as the usage of the furniture, the type of upholstery material, and the amount of dirt and stains it accumulates over time. Generally, it is recommended to have your upholstery cleaned every 12 to 24 months.
Can you clean all types of upholstery?
Yes, we have extensive knowledge and experience working with a wide range of upholstery materials, including delicate fabrics and leather. Our team is trained and equipped to clean all types of upholstery.
Is professional upholstery cleaning safe for my furniture?
Yes, professional upholstery cleaning is safe for your furniture when done by experienced professionals. Our team uses specialized cleaning solutions and techniques that are safe for your upholstery and ensure the best possible results.
Will the cleaning products you use leave residue on my furniture?
No, we use only high-quality, residue-free cleaning products that are safe for your furniture and the environment.
Can you remove all types of stains from my upholstery?
While we have the expertise and tools to tackle a wide range of stains, the effectiveness of our cleaning solutions may depend on the type and severity of the stain. We always do our best to remove as much of the stain as possible.
Location: Ascot, QLD 4007, Australia