Our Exceptional Sofa Cleaning Service Team in Taringa
Our team of professionals available at Karls Couch Cleaning is highly trained and experienced in providing exceptional service and outstanding results.
We utilize a variety of effective cleaning methods to ensure that your sofa is thoroughly cleaned and refreshed. Our primary cleaning technique is steam cleaning, which can eliminate dirt, dust, and other contaminants from the fabric. We also offer couch stain removal services using safe and effective cleaning solutions to tackle even the toughest stains.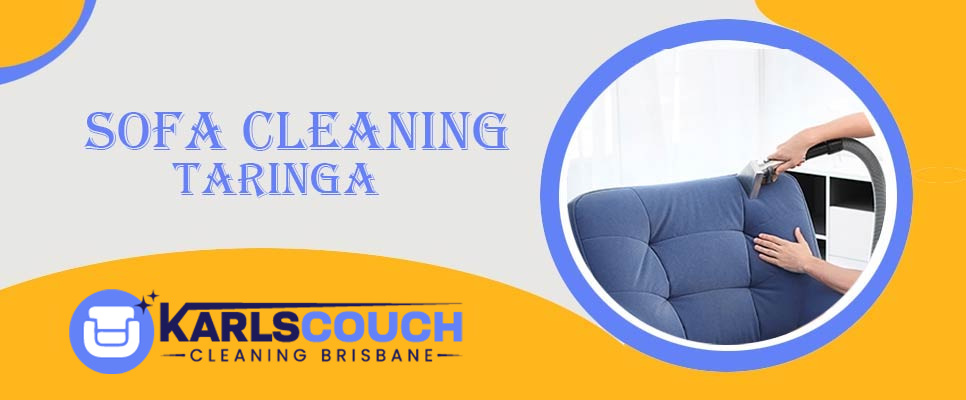 Our Sofa Cleaning Taringa team has the capability to address any odour and mould issues that may be present in your sofa. We provide specialized odour and mould removal services that ensure your sofa is healthy and clean. Our experts place great importance on sanitization and deodorization in our cleaning services. We use specialized solutions to kill harmful microorganisms and eliminate unpleasant odours, leaving your sofa smelling fresh and clean. Additionally, get in touch with us at 07 4243 4179, we offer fabric Scotchgard protection services to keep your sofa looking new and protect it from spills and stains.
Benefits Of Cleaning Sofa Professionally
Keeping your fabric sofa in Taringa clean is an essential part of maintaining a healthy and comfortable living space. There are several benefits to regularly cleaning your fabric sofa, including:
Over time, your sofa can accumulate dust, dirt, and allergens, which can negatively impact the air quality in your home.
Dust and allergens can become airborne and circulate throughout your home, leading to respiratory problems and other health issues.
A dirty sofa can frequently emit unpleasant odors, particularly when spills or stains have affected it.
Dirt and dust particles can scratch and damage the fabric on your sofa, leading to wear and tear over time.
Regular cleaning not only helps to keep your sofa looking and smelling great but also helps to extend its lifespan. By taking care of your sofa, you can save money in the long run by avoiding the need for expensive repairs or replacements.
Symptoms That Indicate That Your Couch Needs Cleaning
If you have a fabric sofa in your Taringa home, it's important to pay attention to the signs that it needs cleaning. Here are five symptoms that indicate it's time to call in a professional sofa and couch cleaning service:
If you notice visible stains or spots on your sofa, it's time to get it cleaned. Stains can be caused by spills, food, pets, and general wear and tear, and they can be difficult to remove without professional cleaning.
A strong and unpleasant odour emanating from your sofa is another sign that it needs cleaning.
If you or anyone in your household suffers from allergies or asthma, a dirty sofa can exacerbate their symptoms.
Dust and dirt particles can accumulate on your sofa over time and can be visible to the naked eye.
Fabric sofas can fade and wear over time due to sun exposure, daily use, and general wear and tear.
All Cleaning Services We Offer For Your Precious Upholstery
For Best Results, We Use This Sofa Cleaning Process
To ensure the best results for fabric sofa cleaning, we employ a comprehensive process that incorporates multiple cleaning techniques. Our approach includes steam cleaning, dry cleaning, stain removal, odour removal, mould removal, sanitisation and deodorisation, and fabric Scotchgard protection. Here are the steps we follow to deliver exceptional results:
Our team will inspect your sofa to identify any stains, odours, or areas that need special attention.
We will use a pre-treatment solution appropriate for the fabric and stain severity to loosen dirt and stains.
Using a high-powered steam cleaner, we will deep clean your sofa to eliminate dirt, dust, and bacteria.
If needed, we will use a dry cleaning method to remove tough stains and dirt.
A gentle shampoo will be applied to your sofa to help break down dirt and stains.
Our team will use specialized techniques to lift and remove stubborn stains.
We will apply an odour-eliminating solution to remove any unpleasant smells.
If mould is present, we will use safe and effective techniques to remove it.
We will sanitize and deodorize your sofa, eliminating bacteria and leaving it smelling fresh.
Finally, we will apply fabric Scotchgard protection to repel future stains and keep your sofa cleaner for longer.
Different Sofa Cleaning Services That We Provide In Taringa
If you need professional sofa cleaning services in Taringa, we offer a variety of options to meet your needs.
Our skilled and experienced technicians clean a range of materials, including leather and fabric, and we provide a variety of services to accommodate different types of furniture. Here are some of the different fabric sofa cleaning services that we provide:
Leather Or Fabric Sofa And Upholstery Cleaning
Our trained technicians clean both leather and fabric sofas and upholstery, utilizing specialized techniques to effectively remove dirt, stains, and odours. This process leaves your furniture looking and smelling fresh and clean.
Leather Or Fabric Couch Cleaning
If your couch requires deep cleaning, we offer a range of services to cater to different types of fabrics. Whether your couch is made of leather or fabric, our team can effectively clean it and restore it to its former glory.
Fabric Or Leather Chaise Cleaning
Chaises are a popular addition to many homes, but they can be difficult to clean due to their unique shape.
Office Chairs Leather Or Fabric Cleaning
If you have leather or fabric office chairs that need a refresh, we offer cleaning services that can help.
Leather Or Fabric Lounge Cleaning
Whether you have a leather or fabric lounge, our team can help to restore it to its former glory.
Leather Or Fabric Armchair Cleaning
Armchairs can be a cozy addition to any room, but they can also be prone to dirt and stains.
Fabric Or Leather Seat Cushion Cleaning
Seat cushions can be difficult to clean, especially if they are made of delicate fabrics.
We Are Experts In Cleaning All Stains From Your Sofa
For the Upholstery Cleaning Taringa service, we have a team of experts who specialize in removing all types of stains from fabric sofas. Stains on your sofa can be a major eyesore and can be daunting to remove.
Our team comprehends this and possesses specialized techniques and products to eliminate a variety of stains. We can effectively remove food, pet, ink, oil and grease, and blood stains from your sofa. Each type of stain requires a different approach, and our team has the knowledge and expertise to remove each one effectively. If you require stain removal services for your sofa, contact us today to schedule an appointment and let us take care of it for you.
Reasons For Choosing Us As The Sofa And Couch Cleaning Taringa Team
Choosing the right upholstery cleaning team in Taringa can be a challenging task, but we are confident that we are the right choice for you. Here are some of the reasons why you should choose us for all your fabric upholstery cleaning needs:
We have designed our sofa cleaning service to restore the appearance of your couch, giving it a fresh and renewed look and feel.
Our experts have years of experience in the sofa cleaning industry, and our team of professionals has the knowledge and expertise to tackle even the toughest cleaning challenges.
We believe in transparency and honesty, which is why we provide our customers with upfront pricing and no hidden charges. We want you to know exactly what you're paying for and what you can expect from our service.
Our cleaning products are safe for your family and pets, and they leave no residue behind. Our experts use the latest cleaning products and techniques to thoroughly clean and sanitize your couch, prioritizing your health and the environment.
We vet, certify, and insure our team of professionals, ensuring that you can trust us to provide you with a high-quality service that meets your expectations.
We use state-of-the-art cleaning products that are not only effective but also safe for your furniture and environment.
Same Day Service For Sofa Cleaning In Taringa And Nearby Suburbs
In Taringa and the nearby suburbs, we understand that life can be busy, and sometimes you need your sofa cleaned on short notice. That's why we offer a same-day service for all sofa cleaning needs.
Our same-day service ensures that your sofa can be cleaned quickly and efficiently, without sacrificing quality. Our team of professionals is equipped with the latest tools and equipment to provide you with a high-quality service that is fast and efficient.
We understand that accidents can happen, and spills or stains on your sofa can be stressful and challenging to deal with. With our same-day service, you can have peace of mind knowing that we are here to help and that your sofa can be cleaned and restored to its original condition in no time.
FAQs
What types of fabrics can you clean?
Our team of professionals is trained and experienced in cleaning all types of fabrics, including cotton, linen, polyester, silk, velvet, and more.
How long does it take to clean a sofa?
The time it takes to clean a sofa may vary depending on the size of the sofa, the type of fabric, and the level of dirt or stains. On average, it takes around 2-4 hours to clean a fabric sofa.
Will the cleaning process damage my fabric sofa?
No, our cleaning process is safe for all types of fabrics and will not cause any damage to your sofa.
How long does it take for my sofa to dry after cleaning?
The drying time may depend on the type of fabric and the humidity level in your home. On average, it takes around 4-6 hours for a sofa to dry completely after cleaning.
Are your cleaning products safe for my family and pets?
Yes, our cleaning products are safe for your family and pets. We use eco-friendly and non-toxic cleaning products that are safe for both humans and animals.
Location: Taringa, QLD 4068, Australia