Top-rated Upholstery Cleaning Team in Birkdale
Our expert team for Upholstery Cleaning Birkdale is known for providing top-notch cleaning services in Birkdale. We're dedicated to restoring your furniture's appearance and freshness, and we specialize in steam cleaning, stain removal, odour elimination, mould remediation, sanitization and deodorization, and Scotchgard protection for fabrics.
Our steam cleaning process is eco-friendly and highly effective in penetrating deep into the fabric fibres to extract dirt and grime. We excel in stain removal by utilizing advanced cleaning solutions designed specifically for each stain type. Our team also provides specialized equipment and products to eliminate unpleasant odours that can remain on your furniture, leaving it smelling fresh and clean. In addition, we offer mould remediation to ensure a hygienic home environment.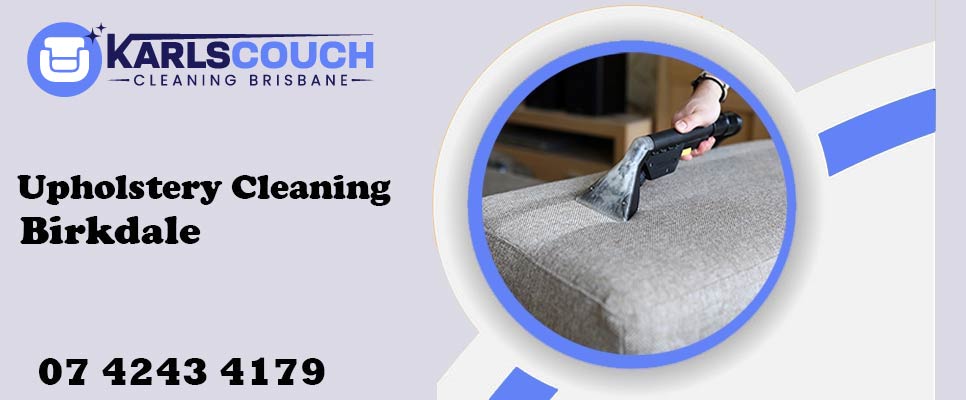 Our highly trained couch cleaning team can safely identify and remove mould from your furniture. Our sanitization and deodorization services provide a thorough cleaning and disinfection of your furniture. We use powerful disinfectants to kill germs and bacteria, leaving your furniture smelling great. Finally, we offer Scotchgard fabric protection to help prevent future stains and spills from damaging your furniture. Contact our experts today at 07 4243 4179!
Advantages of Upholstery Cleaning
In order to maintain a healthy and hygienic home environment, it is essential to clean your upholstery regularly. Living in Birkdale, this practice can offer a variety of advantages, including enhanced indoor air quality, minimized odours, and reduced risk of allergies and respiratory issues. Here are some of the main benefits you can expect from cleaning your upholstery in Birkdale:
By removing dust, dirt, and allergens from your furniture, upholstery cleaning creates a clean and healthy living space for you and your loved ones.
Regularly cleaning your upholstery can help to improve the air quality in your home, reducing the risk of respiratory problems and allergies.
Over time, your upholstery can develop unpleasant odours due to spills, pet hair, or sweat. Regular cleaning can eliminate these odours, leaving your furniture smelling fresh and clean.
Regular cleaning of your upholstery can minimize wear and tear, helping it to maintain a newer appearance for longer.
Regular cleaning and maintenance of your upholstery can extend the lifespan of your assets, which can ultimately save you money in the long run.
Signs That Your Upholstery Requires Professional Cleaning
Maintaining a clean and hygienic home environment requires regular upholstery cleaning. However, it can be easy to miss the signs indicating that your upholstery needs attention. Here are some common symptoms that suggest it's time to schedule an upholstery cleaning in Birkdale:
Stains And Spills
Households with pets and children often experience stains and spills on their upholstery.
Foul Odours
Accumulation of pet hair, sweat, food, or drink spills can result in unpleasant odours on your upholstery.
Allergies And Respiratory Issues
The buildup of allergens, dust, and dirt in your upholstery can lead to respiratory problems and allergies for you and your family.
Visible Dust And Dirt
Dust and dirt accumulate quickly on upholstery, causing it to look dull and dirty.
Faded Or Discolored Upholstery
Upholstery can lose its colour and fade due to exposure to sunlight and other environmental factors.
For Optimal Outcomes, We Employ this Upholstery Cleaning Method
To achieve optimal results, we utilize a comprehensive upholstery cleaning procedure that involves several steps. Our process includes steam cleaning, dry cleaning, shampooing, stain removal, odour removal, mould removal, sanitization and deodorization, as well as fabric Scotchgard protection. Here is a detailed breakdown of each step:
Steam Cleaning
We use high-temperature steam to penetrate deep into the fibres of your upholstery, killing germs, bacteria, and other allergens.
Dry Cleaning
For delicate fabrics that cannot be steam cleaned, we use a dry cleaning method that involves applying a cleaning solution and then using a gentle vacuum to remove dirt and grime.
Shampooing
We apply a safe and effective shampoo solution to your upholstery to remove stains, dirt, and other contaminants.
Stain Removal
We use specialized products and techniques to remove stubborn stains from your upholstery, such as wine, coffee, and ink.
Odour Removal
We use odour-neutralising products to eliminate unpleasant smells caused by pets, food spills, and other sources.
Mould Removal
We use advanced cleaning solutions to eliminate mould and mildew growth on your upholstery.
Sanitization and Deodorization
We use a sanitizing solution to kill germs and bacteria, leaving your upholstery fresh and clean.
Fabric Scotchgard Protection
We apply a protective coating to your upholstery that repels stains and spills, making it easier to clean in the future.
Different Types of Upholstery Cleaning Services We Offer in Birkdale
Keeping your upholstery clean is essential for maintaining a healthy and hygienic home or office environment. With Karls Upholstery Cleaning Birkdale, we provide a range of different upholstery cleaning services to cater to your specific needs. From leather or fabric sofa and upholstery cleaning to office chairs, lounge, and armchair cleaning, we have got you covered. Here is a brief description of the different types of upholstery cleaning services we provide:
Leather or Fabric Sofa & Upholstery Cleaning
Our professional cleaning services for leather or fabric sofas and upholstery are designed to restore their original shine and cleanliness, making them look as good as new.
Leather or Fabric Couch Cleaning
Expert cleaners revitalize leather or fabric couches using cutting-edge techniques and equipment. Say goodbye to stains, dirt, and odours accumulated over time.
Fabric or Leather Chaise Cleaning
Whether you have a fabric or leather chaise lounge, our team can clean it to perfection, removing any stains, dirt, or grime that may have built up.
Office Chairs Leather or Fabric Cleaning
We offer comprehensive cleaning services for office chairs, whether they are made of leather or fabric.
Leather or Fabric Lounge Cleaning
Our cleaning services for leather or fabric lounges are designed to eliminate any stains, odours, or dirt that may have accumulated over time, leaving your lounge looking fresh and clean.
Leather or Fabric Armchair Cleaning
Experienced cleaners restore leather or fabric armchairs, removing dirt, stains, and odours, bringing them back to life.
Fabric or Leather Seat Cushion Cleaning
We offer specialized cleaning services for fabric or leather seat cushions, removing any stains or odours and leaving your cushions fresh and clean.
We Are Experts In Cleaning All Stains From Your Upholstery
If you're struggling to remove stubborn stains from your upholstery, look no further than our Sofa and Couch Cleaning Birkdale team. Our professional team utilizes the latest cleaning tools and techniques to handle even the toughest stains, such as red wine, coffee spills, pet urine, and food stains.
We understand how frustrating it can be to have unsightly stains on your furniture, especially when regular cleaning methods just don't seem to do the trick. That's why we use specialized cleaning solutions that are safe for your upholstery and effectively lift even the toughest stains.
Why Our Birkdale Upholstery Cleaning Team Stands Out
Our couch and sofa cleaning team in Birkdale offers unmatched expertise and commitment to customer satisfaction. We stand out from the competition by providing transparent pricing with no hidden charges.
Our team is composed of highly trained and certified professionals who are fully insured, ensuring that your upholstery is in good hands.
We possess extensive knowledge and experience working with a wide range of upholstery materials and use only the highest quality, residue-free cleaning products that are safe for your furniture and the environment.
Equipped with the latest state-of-the-art cleaning equipment, we have the tools necessary to tackle even the toughest of stains.
With years of experience in the industry, we are confident in our ability to deliver the best upholstery cleaning services possible.
Get in touch with us today to learn more about how we can help you maintain the beauty and longevity of your upholstery.
Same-Day Upholstery Cleaning in Birkdale and Surrounding Suburbs
We offer same-day upholstery cleaning services for both fabric and leather Upholstery in Birkdale and the surrounding suburbs. Our experts are available in Birkdale and other nearby suburbs. We understand the urgency of unexpected spills and stains, and that's why our team of professionals is equipped to tackle even the toughest of stains, ensuring that your furniture is protected from damage.
Our prompt and efficient same-day service is designed to fit your busy schedule, and we pride ourselves on our commitment to customer satisfaction. Our Upholstery Cleaning Birkdale team go above and beyond to provide high-quality, affordable upholstery cleaning services that are convenient for our clients.
FAQs
How long does it take for my upholstery to dry after cleaning?
The drying time depends on several factors such as the type of fabric, humidity, and air circulation. Typically, it can take anywhere from 2-6 hours for your upholstery to dry completely.
Can you remove all stains from my upholstery?
While we use the latest cleaning techniques and solutions, some stains are more stubborn and may require additional treatment. We will always do our best to remove all stains, but we cannot guarantee complete removal in every case.
Is it safe to have my upholstery cleaned?
Yes, it is safe to have your upholstery professionally cleaned. Our team uses safe and effective cleaning solutions and techniques that are suitable for your furniture's specific materials.
Will your cleaning products leave a residue on my upholstery?
No, we use only high-quality, residue-free cleaning products that are safe for your upholstery, your home, and the environment. Our cleaning solutions do not leave any residue behind.
What payment options do you accept?
We accept all major credit cards, cash, and bank transfers. Payment is due upon completion of the service.
Location: Birkdale, QLD 4159, Australia