Effective Lounge Cleaning Services In Camp Hill
Lounges need special attention in order to keep them in great condition for a longer period of time. As lounge replacement costs you a bomb it is always recommended to get your lounges professionally cleaned frequently to give a boost to their lifespan.
Our lounge cleaning services include stain removal, Scotchgard protection, odour removal, mould removal, and many more. Moreover, the products we use are non-toxic and do not cause any harm to your pets and kids. So, appoint our team for Lounge Cleaning Camp Hill today to give your lounges a safe as well as effective cleaning.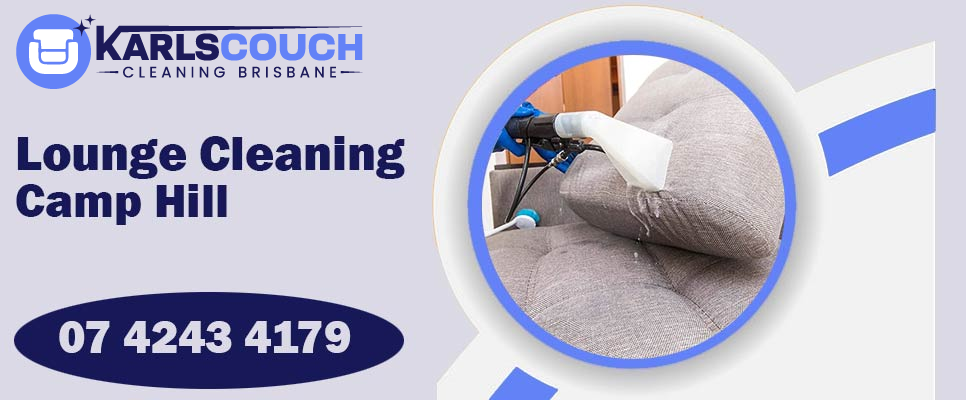 Why There Is Need Of Lounge Cleaning?
Lounge cleaning is necessary to use them for a longer time. The following is the list that describes why lounge cleaning in Brisbane is necessary.
Prolongs their life: Cleaning your lounges professionally at regular intervals will help to expand the life period of your lounges.
Maintains Look: Professional lounge cleaning is very important in order to maintain the look of your lounges.
Reduces Cost: Getting your lounges professionally cleaned will help to reduce the cost of replacement by improving their life span.
Improves Air Quality: Lounges are the places where we spent maximum time in our free time. So, cleaning them will help to improve air quality and avoids allergies caused due to them.
Our Excellent Couch Cleaning Services
Using our state-of-the-art and specialized methods for cleaning couches, we assure you that we can rejuvenate your couches to look as dazzling as they did when they were new. Our array of upholstery cleaning services on Camp Hill encompasses:
Hot Water Extraction
Allergen Removal
Couch Shampooing
Dry Foam Cleaning
Warm Water Cleaning
Pet Stain Treatment
Process We Choose For Lounge Cleaning
The following is the process we choose to clean your lounges
Inspection: We start with inspection, it helps to identify the cleaning method and products to be used as it differs depending upon the fabric used.
Vacuuming: Next step is vacuuming, it helps to loosen the dust particles present in your lounges.
Shampooing: After vacuuming, we use toxic-free shampoos to clean your lounges. It helps to eliminate all dust and stains from lounges.
Sanitization: Once shampooing is done, we sanitize your lounges. It helps to kill disease-causing germs and bacteria.
Deodorization: It helps to eliminate bad odour and gives your lounge a fresh smell.
Scotchgard Protection: We apply Scotchgard to protect your lounges from future stains.
Post-Inspection: Final inspection will be done to check whether any area is left untreated.
Benefits Of Choosing Us For Lounge Cleaning Services In Camp Hill
As lounges offer you a great amount of comfort, it is important to get them professionally cleaned at regular intervals. Choosing the proper and effective cleaners is very important to get the best results. Our Upholstery Cleaning Camp Hill team offers the best lounge services in the entire Camp Hill. The following is the list of benefits you can avail of by choosing us for lounge cleaning services.
Quick and Effective Cleaning: We are the best option if you are looking for quick and effective lounge cleaning services in Camp Hill. All of our Lounge and Couch Cleaning Camp Hill experts are locals from the same region. So, they reach your place quickly and offer fast as well as effective lounge cleaning services.
Reasonable Pricing: The prices of our services are reasonable and affordable to every individual.
24/7 Cleaning Service: You can call us at 07 4243 4179 any time to avail of our services as our services are available 24 hours a day.
Latest Equipment: Our Lounge Cleaning Camp Hill team always makes use of the latest equipment as well as methods In order to offer the highest quality of services to our clients.
Environment-friendly products: We only use certified green products which are effective and do not cause any harm to you and your loved ones.
Highly Rated Company: We are a highly rated lounge cleaning company in Camp Hill. We are rated highly by our customers for the outstanding cleaning services offered by us.
Choose Us For Upholstery Cleaning Services In the Nearby Suburbs Of Camp Hill
We have not restricted ourselves to Camp Hill. Along with Camp Hill, our lounge cleaning team is also offering our premium quality services to nearby suburbs.
FAQs
Do you clean antique or delicate furniture?
Our professional cleaners can handle delicate and antique upholstery, using appropriate methods to preserve the fabric.
Do you provide same-day service for urgent needs?
We do offer same-day or emergency cleaning services, depending on availability.
Can lounge cleaning help with allergies and asthma?
Professional cleaning can remove allergens and improve indoor air quality, benefiting those with allergies and asthma.
Location: Camp Hill, QLD 4152, Australia