How Much Does Couch Cleaning Cost In Brisbane?
Generally, couches in Brisbane residential and commercial are made of different fabrics like leather, velvet, cotton, silk and many more. All these fabric couches need regular cleaning if you do not want them to look dirty and greasy over the long run of their use. And this is when you get to think about some time like couch cleaning Brisbane cost and make your couches look bright. However, the answer to this is not simple as there is more than one factor that influences the cost of couch cleaning. Oftentimes, cleaning costs for couch varies if the fabric had several stains, mould, odours and numerous allergens. So, expect the professionals to think in this way when they are charging you for couch cleaning Brisbane costs.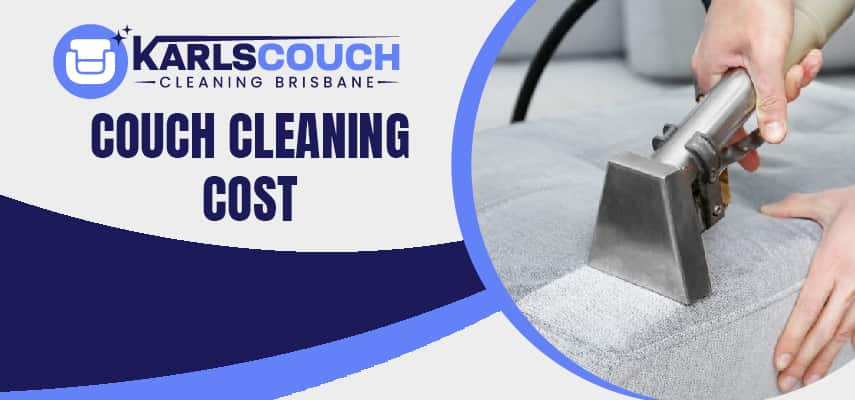 Is It Necessary To Regularly Clean My Couch? Yes And The Reasons Are Here
It is recommended that cleaning your Brisbane couch every 6 to 12 months is very necessary to keep them clean, and fresh and increase their durability. Regular couch cleaning greatly helps in reducing tears and wear and also inhibits premature aging. Investment in professional couch cleaning Brisbane service is always a wise decision if you want to keep your couch mould-free. However, the regular time of cleaning couches also varies depending upon the cleaning methods and dirt your couch has on or in it. All in all, we suggest you clean you're at least twice a year without missing out by taking professional assistance.
How Does Our Company Charge For Couch Cleaning?
When it comes to charges of couch cleaning Brisbane services, there are many things one needs to consider before listing the price. Because couches differ in size, shape, the severity of dirt it has and how deep that dirt goes into the couch. However, there are still some companies in the couch cleaning industry that make a general pricing guide. So, if you feel that there is one couch cleaning method that you need, you can directly select from it.
Usually, our team of couch cleaners categorise the couches depending on the seating base and does a thorough inspection of them. From here, we plan to regain the comfort of your couch by subjecting your couch to different cleaning methods. So, you can notice that we go with qualitative couch cleaning rather than quantitative couch cleaning. Some of the import factors that greatly influence couch cleaning Brisbane costs are as follows:
The total time it takes to clean a couch. Because your couch isn't regularly cleaned, then it takes more time and effort to clean it.
The type of cleaning methods such as steam cleaning and dry cleaning vary the overall service cost. Steam cleaning the couch is and bit high in cost than dry cleaning.
Fabrics like suede and leather of couches cost you high as they require more tools and extra attention.
There are also cases where couches will need for emergency professional couch cleaning and this varies the price.
The number and size of couches in a property play a major role in determining the costs for couch cleaning Brisbane services.
What Aspects Of Couch Make Their Cleaning Costs Higher That Carpet Cleaning?
Yes, many think that cost of carpet cleaning is higher than the couches because they are bigger that stretch from room to room. But this is a false assumption. Because the couch cleaning Brisbane price will be charged based on the time it takes to clean the couch rather than size. Even when the surface of the carpet is bigger than the couches, it isn't considered a factor when charged for cleaning price.
Well, cleaning methods for both couches and carpets are the same, the time it takes to clean and the costs that are charged are more for couch fabrics. This is because the size and shape of couches are respectively big and complicated. Moreover, couch cleaning needs extensive professional assistance to get rid of both surface dust and deeply-embedded dirt.
In addition to the size, shape and amount of dirt your couch carries, cleaning arm rolls, crannies, nooks and cushions increase service cost; whereas carpets don't have them. Furthermore, carpets are straight-line fabrics and are easier to clean than couches that have hard-to-reach places.
Couch Stain Removal
Stains on the couch over the long run become stubborn and permanent ones on the fabrics that torment your everyday life. The common stains any couch becomes the victim of are lipstick, chocolate, sauce, wine, juice, blood and pet urine. Hence, couches need specialized stain removal services and hence this causes a rise in cleaning prices.
The first thing you need to do while planning to contact us for couch stain removal treatment is to not disturb the stain; like scrubbing it. Each type of stain has its very own properties and hence needs different kinds of couch cleaning methods. So, contact us right away!
But if it is stained from pet urine, they soak deep into the fabric and in turn emits extremely unbearable odours around you. Thus, do not miss out on steam cleaning your couch right away to skip this situation from your everyday hassle. This cleaning method goes deep into the couch to get rid of stains as well as odours.
Do Your Couch Need Protection Against Stains? Fabric Protectors It Is Then!
In addition to stain removal treatment, if you avail of our fabric protectors for your couch, they would glow like the new ones. Our fabric protectors on the couch act as a shield against all kinds of accidental and invincible stains. These protectors give additional care against spills and stains.
The charge you need to pay for fabric protection couch cleaning in Brisbane service is charged separately from the cleaning method. And the cost for this additional benefit depends on the size and shape of your couch.
Karls Couch Cleaning Brisbane is an experienced firm in the industry that charges you affordable costs for couch cleaning services in Brisbane. So, all you have to do is to search for "couch cleaning near me" in Brisbane and check us out to hire our certified cleaners.