Get Affordable Couch Cleaning Services Today!
Looking for couch cleaning services in Woolloongabba? One solution is Karls Couch Cleaning. Many sorts of furniture, including sofas, couches, armchairs, chaises, and more, can be cleaned and restored by our team of specialized upholstery cleaners. Even the day after a booking, we can do upholstery stain removal, leather and fabric protection, couch cleaning solutions, sofa dry cleaning, deodorizing, and sanitizing.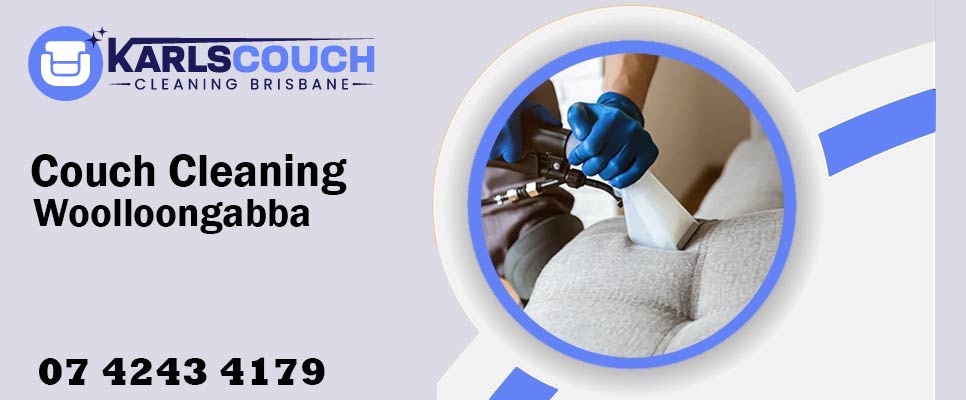 Since we are aware of your difficulties, we provide the finest and most dependable sofa cleaning in Woolloongabba. We offer comprehensive cleaning services at extremely reasonable and moderate prices, so you can retain your grandparent's sofa set or your highly valued, pricey couch clean and safe.
To ensure that your couch lasts for a very long time, you must use expert couch cleaning services every five to six months. Your best bet for assistance with that is our couch cleaning in Woolloongabba. Our Couch Cleaning Woolloongabba staff has all the necessary equipment, cleaning agents, and other supplies to leave your couch spotless. In a single call at 07 4243 4179, we can provide you with all of the sofa cleaning solutions you require.
Our sofa cleaning specialists go above and above to provide their customers with the results they want. Thus, hire us right away at a low price for couch cleaning if you want to restore the brilliant colour of your couch.
Woolloongabba Couch Stain Protection Services
Discovered your entire home in a mess when you awoke the next day as a result of the party the night before? The large, messy spot on the couch that is staring back at you is worse than that! In any case, our teams for Upholstery Cleaning Woolloongabba are here to save the day by offering you our top-notch upholstery cleaning services. Our techniques for cleaning couches and sofas are quite sophisticated and produce effective results.
Give us a call, and we'll save the day whether you need simple cleaning or stain removal plus Scotchgard. Following our Woolloongabba upholstery cleaning services, we coat your upholstery in Scotchgard protection to shield it from spills and dirt accumulation. The application of Scotchgard to your couches extends the life of your upholstery. All couches, sofas, and upholstery in both residential and commercial locations can benefit from our Scotchgard services.
Pamper Your Precious Upholstery: A Look Into Our Cleaning Services
What Advantages Do Professional Couch Cleaning Services Offer?
There are numerous reasons why professional sofa cleaning in Woolloongabba is important, some of them include:
Removal of Couch Stains: Any stains on the couch can be removed using any moist cloth that has been rinsed in a detergent water solution. But, if the stains are tough or serious, you might need to employ upholstery cleaners. Experts are knowledgeable about all stains and how to remove them. So, only a professional upholstery cleaning service can provide the finest results in terms of removing upholstery stains.
Standard Couch Cleaning: The most crucial step in keeping your couches in good condition for an extended period is routine couch cleaning. But we don't have enough time in our everyday schedules to perform regular cleaning. At regular intervals, expert couch cleaners may provide extensive cleaning for the couch.
Cleaning and deodorizing the couch: Many harmful bacteria and germs can be found in couches and fabric. These microorganisms and pathogens can seriously impair the upholstery's cleanliness and put you at risk of contracting numerous illnesses and infections. Your upholstery will smell bad because odour-causing microorganisms feed on organic debris. The best couch sanitization and couch deodorization can be provided by professional upholstery cleaners for you. The upholstery will receive a professional treatment that will eradicate all bacteria and diseases.
Removal of Upholstery Mould: The fungus mould or mildew can attack the stained couches and fabric. Mould can harm people's health and compromise the structural integrity of couches. Skilled couch cleaners can provide flawless mould removal from the couch because they employ potent anti-fungal chemicals.
Rejuvenation and Restoration: The condition of the couch may be harmed by frequent use and contact with dust and filth. The fabric of the upholstery will start to discolour and gather a lot of filth. Professional couch cleaning improves and prolongs the life of any upholstered furniture. To completely clean and restore your upholstery, specialized tools, and large machines are employed.
For Couch Cleaning Woolloongabba Service, we guarantee prompt, dependable, and cost-effective sofa cleaning services to give our customers high-end satisfaction. Our team has the training and expertise to provide our esteemed clients with professional services. Our team is skilled in managing all shapes and sizes of couches and thoroughly cleans them using a pre-planned cleaning technique, regardless of whether you own the most costly and luxurious furniture or some hard-to-hold fragile ones. We promise to thoroughly clean all of your couches and sofas without causing any damage to any of them.
Our Couch Cleaning Procedure: Providing You With The Best Result!
Examining the Couch: We thoroughly examine your upholstery to see if there is something more that needs cleaning except what you have told us.
Vacuuming: As the first step in cleaning, vacuuming helps to get rid of surface dirt particles.
Cleaning Procedures: Depending on the requirements and the state of your upholstery, it may be done using hot water extraction, dry cleaning, or another approach. We pay special attention to stains, odours, and filth.
Residue Removal: During the drying process, our technicians will remove any cleaning residues left behind and make sure there won't be any stains or odours.
Couch Drying: Because drying is just as crucial as cleaning, we have incorporated it into our cleaning procedure. We have excellent facilities for swiftly drying upholstery of various shapes and sizes.
Final Thought: In the end, we make sure that your goals for hiring us have been met and that your couch is in the finest possible shape.
Our experts for Couch and Sofa Cleaning Woolloongabba are experienced in cleaning upholstery using the most effective techniques. As there are numerous layers of dust and other contaminants on furniture in homes and offices, we make sure to utilize advanced techniques and specialized tools when cleaning couches in Woolloongabba. To get the best service, hire us Today!
Reasons to Choose Us for Your Couch Cleaning Service
Couch cleaners with experience and certification.
Use of environmentally friendly cleaning agents
100% client satisfaction, more than 20 years of expertise in the industry
Also, working on holidays and weekends
Best cleaning techniques
Treat all varieties of upholstered couches with high-quality solutions at a low cost
Get same-day service in Woolloongabba.
Neighbourhoods That Benefit From Our Upholstery Cleaning Services
FAQs
Is couch cleaning worth it?
Couch cleaning is worth it as it enhances indoor air quality, prolongs couch lifespan, and boosts its appearance while removing allergens for allergy and asthma relief.
How often should I have my couch cleaned?
The frequency of couch cleaning varies based on usage, pets, and allergies. Generally, aim for annual professional cleaning, but consider more frequent cleanings for heavy use or pet presence.
What types of couches can your company clean?
We can clean all types of couches, including fabric couches, leather couches, and suede couches. We also clean sectional couches, sofa beds, and recliners.
Location: Woolloongabba, QLD 4102, Australia