Lounge Cleaning in Cleveland: Make Your Lounge Feel and Look Better!
Do you think the upholstered furniture in your home needs to be replaced? Karls Couch Cleaning may be worth considering before you start considering replacements. The majority of upholstery fabrics and the padding that lies beneath them are quite good at attracting dirt and allergens, making your furniture look worn, smell unpleasant, and even feel slippery to the touch.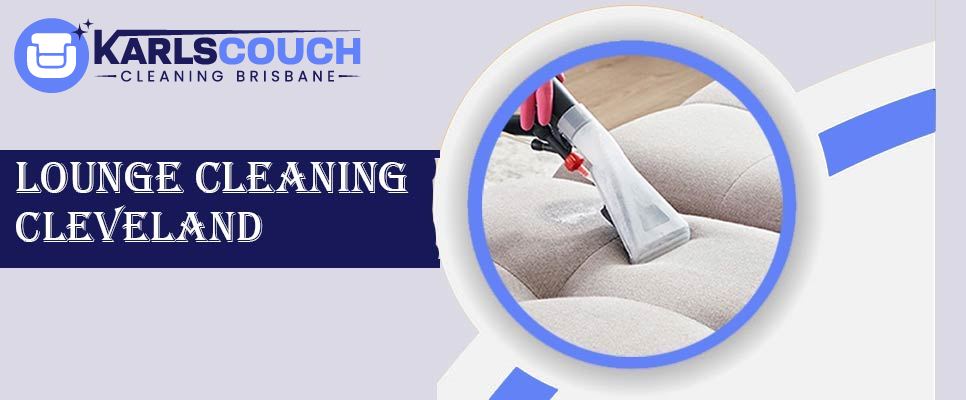 Deep cleaning for upholstery is provided in the region by our Upholstery Cleaning Cleveland team. Our environmentally safe and pet-friendly cleaners penetrate the fabric to get rid of the filth staining your furniture as well as allergies and other troublesome substances. With more than a decade of expertise in the cleaning business, we offer a full cleaning solution. Our sofa cleaning crew is exceptionally skilled, qualified, and professional. Our goal is to completely satisfy every client, and they work hard and shrewdly to achieve that.
Everything eventually becomes boring, whether it's your costly couch or the chairs in your dining room. And at that point, it needs to be professionally cleaned. We effectively restore the appearance of your couch, sofa and lounge. Call us now today at 07 4243 4179!
Our Excellent & Reliable Upholstery Cleaning Services
With our advanced techniques, we guarantee to revive your couch's brilliance, making them look brand new. Our Cleveland upholstery cleaning services include:
Why Is Steam Cleaning Better Than Normal Cleaning Solutions for Lounges?
Consider your initial cleaning expense if preserving a chemical-free atmosphere is not reason enough for you to pick couch steam cleaning. Using sofa steam cleaning in Cleveland will enable you to save money while receiving important services of the highest calibre. In addition to cleaning, steam cleaning is a completely allergy-free and environmentally friendly procedure that won't harm anyone's health. The environment benefits from steam cleaning as well.
Cleveland Lounge Steam Cleaning
We offer a wide range of services for Lounge and Couch Cleaning Cleveland needs to help owners of both business and residential properties. We are a locally owned business that serves the entire city and its suburbs outskirts. By the use of chemicals, hot water, or steam, steam cleaning removes filth and grime. This is the best technique for cleaning fabrics and all kinds of couches. Our couch steam cleaners utilize a combination of cleaning products and hot water vapour to remove dirt. We combine the necessary solutions and ingredients to the fabric of your furniture to provide the most effective cleaning solution.
We provide a comprehensive cleaning service that involves cleaning the sofa, armchairs, seats, and other items. Don't get too upset if your pet soils your cushions or couch because we can typically eliminate most stains and odours. Instead of throwing away your furniture, get it cleaned by our team.
The Advantages of Cleaning Lounge
Long-Lasting Upholstery: Most of the time, replacing furniture is not yet essential. Unfortunately, the majority of individuals believe that their furniture is ruined when, in most cases, it is only collected dirt. Your furniture will seem brand new again thanks to services, which also cost less.
Improved Hygiene: The furniture cleaning will make your sofa look brand new and cleaner than before, so stop worrying about how hygienic it is. Make your furniture last longer and take better care of yourself!
Enhancing Indoor Air Quality: Dust and other dirt that have been hiding in your upholstery are released into the air every time you collapse into the sofa to close the gap on your shows. This causes dander and bacteria to circulate, degrading the air quality in your home. You may lower the number of pollutants in your atmosphere at any one time by doing routine upholstery cleaning.
A Favourable Visitor Experience: Everybody has experienced the unpleasant experience of sitting in someone else's chair with their hands on the armrests. It doesn't give guests the impression we desire, whether it's an oily tackiness from skin or a chalky sense from built-up dust. These undesirable textures are eliminated by upholstery cleaning.
A well-known company in the area called Karls Couch Cleaning offers you all kinds of expert upholstery cleaning services. We have created advanced, modern techniques to clean the furniture thanks to our years of experience. Our educated and competent upholstery cleaners are professionals. With the newest techniques and technology at their disposal, they can quickly manage and clean any couch. To achieve better results in upholstery stain removal, we use all commercially available solutions and solvents. Allow our expert upholstery cleaners to provide the best and most efficient lounge and upholstery cleaning in Cleveland.
Why Choose Us For Lounge Cleaning In Cleveland?
Karls Couch Cleaning offers the best guarantee in the business to support the calibre of our work. We go above and beyond to make things right if you're not completely satisfied with the outcome of our services. Here are some other reasons for choosing us:
Decades of Expertise: Customers have relied on our specialized cleaning services for their homes for more than two decades. Longer than anybody else, and with greater results, we've cleaned thousands of lounges.
Excellent Customer Service: Customers are our priority. Our customer service representatives and cleaning service professionals will always provide you with friendly, professional service that is prompt. If you're not completely pleased with the service and the results, neither are we.
Certified Technician: Our Lounge Cleaning Cleveland professionals are certified, have a clean record, and have the greatest training in the industry. As a result, you may be confident that they are competent.
Better Outcomes: To provide you with superior cleaning, we adapt our cutting-edge cleaning solutions, equipment, and tried-and-true procedures. You'll notice the distinction. By choosing our team for Lounge and Sofa Cleaning Cleveland service, you'll experience the best service in your city.
FAQs
Q1: How often should I have my couch professionally cleaned in Cleveland?
We recommend having your couch professionally cleaned every 12-24 months to maintain its appearance and prolong its lifespan.
Q2: What methods do you use for couch cleaning in Cleveland?
We use a combination of hot water extraction and eco-friendly cleaning solutions to deep clean and sanitize your couch effectively.
Q3: Can you remove stubborn stains and odours from my lounge?
Yes, our lounge cleaning services in Cleveland are designed to tackle tough stains and eliminate odours, leaving your lounge looking and smelling fresh.
Location: Cleveland, QLD 4163, Australia