Expert Lounge Cleaning Service in Victoria Point
Our company is the top choice for anyone seeking the best couch cleaning service team in Victoria Point. Karls Lounge Cleaning Victoria Point is a team of highly skilled professionals who use cutting-edge tools and techniques to provide deep and thorough cleaning for your lounge.
We offer a comprehensive range of services, including steam cleaning, stain removal, odour removal, mould removal, sanitisation and deodorisation, and fabric Scotchgard protection. Our steam cleaning method is safe and environmentally friendly, and we can tackle even the toughest stains with our effective solutions. We also provide mould removal, sanitisation, and deodorisation services to ensure your lounge is free of bacteria and harmful microorganisms. Additionally, our fabric Scotchgard protection service provides an extra layer of protection against future stains and spills.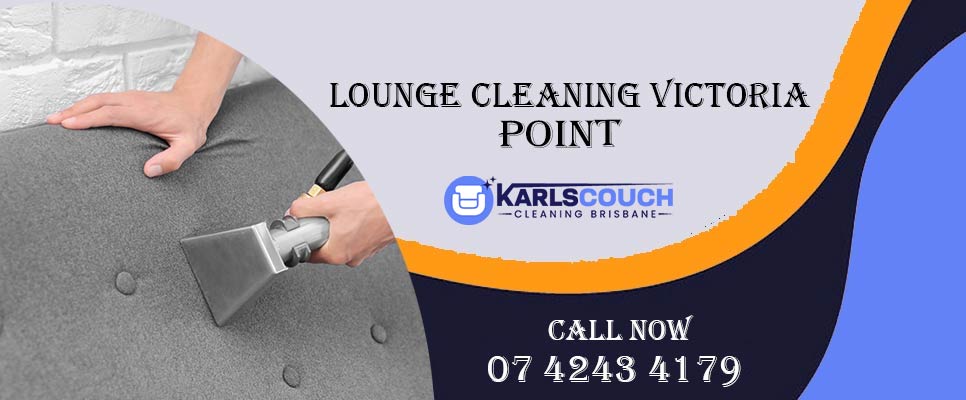 At our company, we are committed to providing our customers with exceptional service that exceeds their expectations. Contact us today at 07 4243 4179 to schedule an appointment.
Importance of Regular Lounge Cleaning
Cleaning lounges in Victoria Point is not only essential for maintaining the appearance of your home or office, but it also offers a range of benefits. Here are some of the benefits of cleaning lounges in Victoria Point:
Regular cleaning of your lounge ensures that dust, dirt, and allergens are removed from the furniture.
A clean lounge promotes better indoor air quality, which can help reduce the number of allergens and pollutants in the air.
A clean lounge helps to minimize the odour that may arise due to a build-up of dust, dirt, and other particles.
Regular cleaning of your lounge can help prevent damage to your furniture. Dust and dirt accumulation can cause wear and tear on the fabric, leading to premature aging of the lounge.
In addition to preventing damage to your furniture, regular cleaning of your lounge can also help prolong the life of your assets.
How To Know When It's Time to Clean
A lounge is one of the most important pieces of furniture in any home, and it can be subject to wear and tear over time. While it may be easy to overlook, a dirty lounge can have a significant impact on the overall cleanliness and hygiene of your home. Here are some symptoms that indicate that your lounge needs cleaning in Victoria Point:
Visible stains and marks: If you notice any visible stains or marks on your lounge, it is a clear sign that it needs cleaning.
Unpleasant odour: A musty or unpleasant odour coming from your lounge is a clear sign that it needs cleaning.
Dust accumulation: If you notice a significant accumulation of dust on your lounge, it is a clear sign that it needs cleaning.
Faded or discoloured fabric: Over time, the fabric on your lounge can fade or become discoloured due to exposure to sunlight or general wear and tear.
Increased wear and tear: If you notice that your lounge's fabric is becoming frayed, or the stuffing is starting to poke out, it is a clear sign that it needs cleaning.
These are some symptoms that indicate that your lounge needs cleaning in Victoria Point. Regular cleaning can help eliminate stains, odours, and dust accumulation, preserve the colour and condition of the fabric, and protect your lounge from wear and tear.
Optimizing Results with Our Lounge Cleaning Process
Our Upholstery Cleaning Victoria Point team understand that lounges are essential pieces of furniture that require thorough cleaning to maintain their appearance and prolong their lifespan. That's why we use a comprehensive lounge cleaning process to ensure the best possible results for our clients in Victoria Point.
Our lounge cleaning process includes several steps, each designed to address different types of dirt, stains, and odours. These steps are:
This process uses high-temperature steam to penetrate the fabric of the lounge, loosening dirt and grime that can't be removed by vacuuming.
We use a dry cleaning process that uses a solvent-based solution that breaks down and removes dirt, grease, and other contaminants from the lounge.
For heavily soiled lounges, we use a deep-cleaning shampooing process to extract dirt and stains from the fabric.
We use specialized products and techniques to remove even the toughest stains, such as pet stains, ink, and wine.
Our lounge cleaning process includes the use of deodorizers and odour neutralizers to eliminate unpleasant odours from the fabric.
If your lounge has been affected by mould, we use specialized equipment and cleaning products to safely remove it and prevent it from returning.
We ensure your lounge is hygienic and fresh smelling by sanitizing and deodorizing it.
We offer an optional Scotchgard protection service to help prevent future stains and damage to your lounge.
For Lounge and Couch Cleaning Victoria Point, we take pride in our lounge cleaning process, which is designed to provide our clients with the best possible results. Our experienced cleaners are trained to handle different types of lounges and fabrics and are equipped with the latest tools and cleaning solutions to ensure that your lounge looks and smells fresh and clean.
Experience The Most Effective Cleaning Services For Your Upholstery
Lounge Cleaning Services We Offer In Victoria Point
If you're looking for professional lounge cleaning services in Victoria Point, there is a range of options available to you. Here are some of the different types of lounge cleaning services that you can expect to find:
Leather or Fabric Sofa & Upholstery Cleaning: Sofas and upholstery are prone to getting dirty and stained, especially if you have pets or children in the house.
Leather or Fabric Couch Cleaning: Couches are similar to sofas and upholstery, but may have different materials and cleaning requirements.
Fabric or Leather Chaise Cleaning: Chaises are often used as accent pieces in living rooms, bedrooms, and other spaces.
Office Chairs Leather or Fabric Cleaning: Office chairs can get dirty quickly, especially if they are used by multiple people throughout the day.
Leather or Fabric Lounge Cleaning: Lounges are a popular piece of furniture for many households.
Leather or Fabric Armchair Cleaning: Armchairs are comfortable and stylish, but they can also get dirty over time.
Fabric or Leather Seat Cushion Cleaning: Seat cushions are an important part of many pieces of furniture, and they can get dirty and stained over time.
We Are Experts In Cleaning All Stains From Your Lounge
With our cleaning services in Victoria Point, we are proud to provide top-quality cleaning services that are tailored to meet the needs of our clients. Our team of expert cleaners has the knowledge, skills, and experience to handle any cleaning project, big or small. Whether you need a one-time deep clean or ongoing maintenance services, we are here to help.
We believe in using only the best equipment and cleaning products to ensure that we leave your space looking and feeling fresh and clean. Our cleaning methods are eco-friendly and safe for your home or business, ensuring that we leave behind no harmful residues.
For lounge cleaning in Victoria Point, we are committed to providing exceptional customer service. We understand that every client has unique needs and requirements, and we work closely with you to ensure that we meet those needs. Our team is always available to answer any questions or concerns you may have, and we strive to provide timely and efficient services.
Reasons to Choose Us for Lounge Cleaning in Victoria Point
Our lounge cleaning services in Victoria Point are a top choice for several reasons. Firstly, we are committed to restoring the appearance of your lounge, using specialized cleaning solutions and techniques to remove stains and dirt.
Additionally, we have years of experience in the industry and a team of certified and insured professionals who will handle your furniture with care. You can trust that our pricing is transparent, with no hidden charges.
Moreover, we use safe and effective cleaning solutions that are suitable for all types of upholstery, including delicate and natural fibres. Our state-of-the-art cleaning equipment is regularly maintained and updated to ensure optimal performance. Choosing us means that you can expect a thorough and effective cleaning service for your lounge.
Same Day Lounge Cleaning Services in Victoria Point and Surrounding Suburbs
We are available 24/7 for Lounge, Couch, and Sofa Cleaning in Victoria Point and provide same-day lounge cleaning services in Victoria Point and nearby suburbs. Our team of experienced cleaners uses the latest equipment and techniques to ensure that your lounges are thoroughly cleaned without damaging the fabric or structure. We understand that your lounges are a significant investment, and we take great care to clean them to the highest standards.
Our same-day service guarantees that your lounges are kept clean and fresh without any delay. We are committed to providing the highest level of customer satisfaction, and our services can be tailored to meet your specific needs and budget. In addition to same-day lounge cleaning, we also offer carpet cleaning, tile and grout cleaning, and upholstery cleaning services.
FAQs
How often should I have my lounge cleaned?
The frequency of lounge cleaning depends on the usage and foot traffic in your home or business. For high-traffic areas, we recommend having your lounges professionally cleaned every six months. For lower-traffic areas, you can schedule cleaning every 12-18 months.
Will cleaning my lounges damage the fabric?
No, professional lounge cleaning should not damage the fabric of your lounges. Our team of experienced cleaners uses gentle yet effective cleaning techniques that are safe for all types of lounge fabrics.
Can you remove pet stains and odours from my lounges?
Yes, we specialize in removing pet stains and odours from lounges. We use advanced cleaning products and techniques that are designed to eliminate stains and odours while being safe for your pets and family.
How long will it take to clean my lounges?
The time it takes to clean your lounges will depend on the size and condition of your furniture. Generally, lounge cleaning takes between 1-3 hours.
Can you apply a protective coating to my lounges after cleaning?
Yes, we offer lounge protection services that can help protect your furniture from spills, stains, and other types of damage. Our protective coatings can extend the life of your furniture and keep it looking new for longer.
Location: Victoria Point, QLD 4165, Australia