Professional Lounge Cleaning Services In Paddington
Bring back the lost glory of your lounge by availing of our professional couch cleaning services in Paddington. Our Lounge Cleaning Paddington team helps you to save money by increasing the life span of your lounges. With years of experience, we deliver superior quality services in a short time for affordable prices.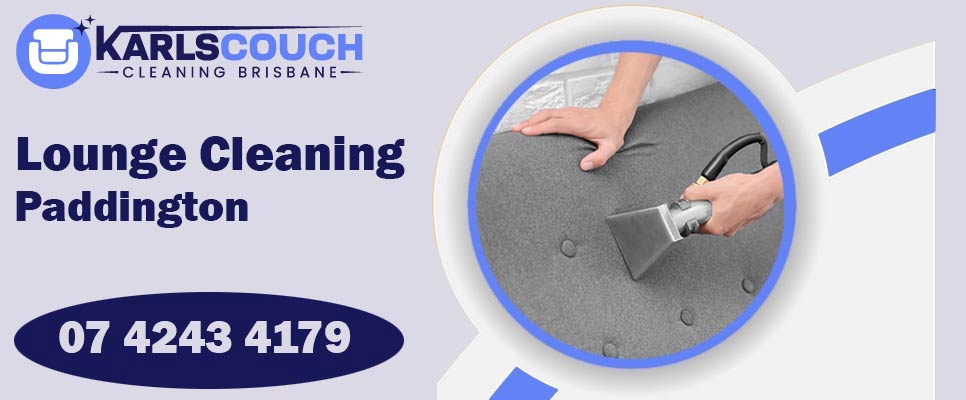 Our lounge cleaning services include stain removal, Scotchgard protection, mould removal, odour removal, and many more. So, what are you waiting for, give us a call today at 07 4243 4179 to avail yourself of our premium quality lounge cleaning services in Paddington.
Why Must Not Miss Lounge Cleaning?
Helps Maintaining Look: Cleaning lounges at regular intervals will help to maintain the look and colour of your lounge.
Longer Life: Uncleaned lounge will not stay for a longer period of time. So, cleaning your lounge will help to increase its lifespan.
Saves Replacement cost: Avoiding lounge cleaning will decrease its life and incurs lounge replacement. So, cleaning lounges regularly will help to avoid replacement costs and save your hard-earned money.
Avoids Health Problems: A lounge filled with dust is a home for a number of disease-causing bacteria and germs. This results in causing health problems. Lounge cleaning will help to avoid health problems.
Our Excellent & Reliable Couch Cleaning Services
With our advanced techniques, we guarantee to revive your couch's brilliance, making them look brand new. Our Paddington upholstery cleaning services include:
Our Premium Lounge Cleaning Process
The following is the process we follow while offering Upholstery Cleaning Services in Paddington.
Vacuuming: We start our cleaning process by vacuuming your lounges. Vacuuming helps to lose soil and dirt from your lounges.
Treatment Of Stains: After vacuuming we use safe products to eliminate a variety of stains from your lounges.
Shampooing: After treating stains, we use powerful shampoos to clean your lounges which helps to eliminate dust and soil and bring a fresh look.
Deodorization: We use deodorizers to eliminate bad odours from your lounges. Applying deodorizer will spread fragrance from your lounge.
Sanitization: It helps to kill evil bacteria and germs from your lounges.
Scotchgard Protection: In order to protect your lounge from future stains, we apply Scotchgard to your lounges.
Final Inspection: At last, we inspect all your lounge to check if any lounge areas need to be addressed.
Advantages Of Choosing Us For Lounge Cleaning Services In Paddington
Choosing the proper cleaners is the first and most important step in the process of lounge cleaning. We are best when it comes to lounge cleaning in Any suburb of Brisbane. Below are some of the advantages you can avail of when you book a lounge cleaning service with us.
Friendly Cleaners: All our cleaners are friendly and extremely supportive of our clients.
Toxic-free Products: The cleaning products we use are toxic-free and eco-friendly. They do not cause any harm to your pets and family.
Various Payment Options: We have flexible payment methods, you can pay with Visa, MasterCard, American Express, cash, or EFT.
Competitive Prices: The prices of all our Lounge and Couch Cleaning Paddington services are competitive and affordable to everyone.
Local Cleaners: All our lounge cleaners are local residents. So, they offer you quick service within a short period of time.
Commercial Services: Apart from residential services, we also offer commercial lounge cleaning services.
Hire Us For Lounge Cleaning Services in Paddington's Surrounding Areas
Do you need Lounge, Couch, and Sofa Cleaning Paddington professionals? We are here to help you. While providing our services in Paddington, we also spread our lounge cleaning services to nearby suburbs. Here are some nearby suburbs and cities to Paddington where our lounge cleaning team offers superior quality services.
FAQs
What is the cost of lounge cleaning?
The cost varies depending on the size and condition of the furniture. Request a quote for accurate pricing.
What types of stains can you remove?
We can remove the most common stains, including food, drink, ink, and more.
How long does the cleaning process take?
The time varies based on the size and condition of your lounge, but it typically takes 1-3 hours.
Location: Paddington, QLD 4064, Australia