Best Upholstery Cleaning Gold Coast Service At Your Doorstep: Book Now!
We at Karls Couch Cleaning are your first-rate choice for upholstery cleaning in Gold Coast. Instead of using a same-type cleaning method, our expert couch cleaners evaluate the state of your couch to find out a customised cleaning technique that is specifically designed to bring back its former lustre. While performing the couch cleaning process, our professionals use only state-approved, eco-friendly, and pet-friendly cleaning agents that don't contaminate indoor air quality.
We are committed to restoring the showroom-like newness of your couch removing dirt, stains, allergens, odour, etc. Take advantage of our extensive experience of more than 20 years in the industry, contact our experts today on 07 4243 4179!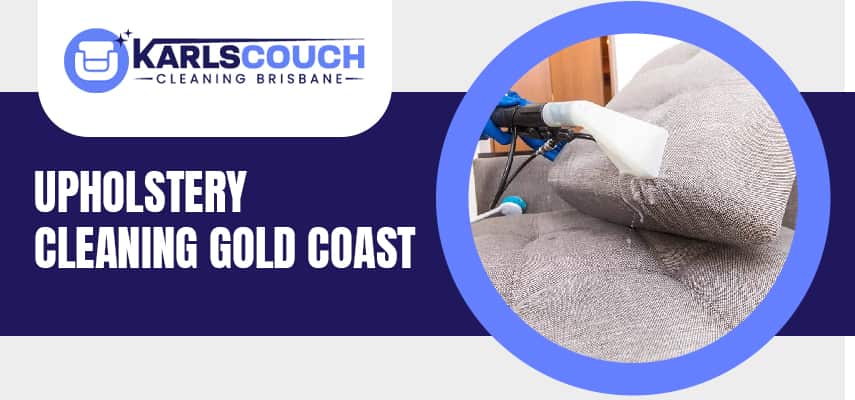 Why Is Regular Upholstery Cleaning Important?
There are several advantages of regular upholstery cleaning. The top-of-the-line-ones include:
Increased couch lifespan: Professional cleaners help extend the lifespan of couches by keeping them spotless and reducing early wear and tear.
Spotless cleaning: When your couch is cleaned by regularly, you can expect it to be pristine and free of any dirt or stains.
Complete germ and allergen removal: Professional upholstery cleaning services eliminate all present germs, dust mites, mould, and allergens, reducing the risks of allergies.
Budget-friendly option: When your couch remains in its best condition, which is possible only with routine professional cleaning, you can save your pocket from the hefty expenses of getting a new couch.
Emergency And Same Day Upholstery Cleaning In Gold Coast, QLD
Are you looking for immediate couch cleaning services in Gold Coast? Then just give us a call now! Since we primarily work with local and certified couch cleaning Gold Coast experts, we can easily arrive at your door within 24 hours of your booking. We restore the polished appearance of your couches in just a few hours using state-of-the-art cleaning techniques, quick-drying tools, and industry-grade products. We also offer same day residential and commercial upholstery cleaning services.
Our Excellent Couch Cleaning Services
With our cutting-edge, specialised couch cleaning techniques, we promise to restore the new-like dazzling appearance of your couches. We offer a wide range of upholstery cleaning Gold Coast services, and those include:
Hot Water Extraction
Allergen Removal
Couch Shampooing
Dry Foam Cleaning
Warm Water Cleaning
Pet Stain Treatment
Types Of Upholstery Fabrics Our Experts Clean
Cotton and Linen Fabric
Our upholstery cleaning service removes dirt and stains from cotton and linen fabrics using safe and effective procedures, leaving them fresh, clean and looking like new.
Synthetic Fabric
Our expert cleaning service removes dirt and stains from synthetic upholstery fabric using industry-leading procedures and solutions, restoring their beauty and extending their lifespan.
Polyester
While polyester is durable, it requires regular maintenance to keep it looking its best. Our team of experts handles polyester with special care, restoring its shine and quality to your upholstery.
Wool Upholstery Cleaning
Silk Upholstery Cleaning
Acrylic Upholstery Cleaning
Rayon Upholstery Cleaning
Nylon Upholstery Cleaning
Velvet Upholstery Cleaning
Our Professional Upholstery Cleaning Process
We undertake the following couch cleaning steps to reinstate its sheen.
A thorough inspection of the current state of your couch to plan the perfect cleaning treatment.
Then we conduct a pre-treatment to loosen up the oil from the stains.
After that, we steam/dry clean it based on the fabric type, and dry it with advanced drying tools.
Finally, we disinfect and deodorise it, applying Scotchgard Protection on the couch surface we end the process.
We Offer Upholstery Cleaning Services In These Nearby Areas
With local couch cleaners, we offer our foolproof couch and sofa cleaning Gold Coast services to every nook and corner of the city. Since we have locals on our team, we can offer same-day treatment across Gold Coast. Some neighbouring areas we serve include:
What Makes Karls Couch Cleaning Professional Team Your Top-Notch Choice?
Our honesty, trustworthiness, and reasonable price rates make us your top-notch choice for getting upholstery cleaning Gold Coast services. Here's what makes us better than our alternatives.
Professionally-trained and certified couch cleaners
24/7 availability, bookings are accepted even on weekends and public holidays
Support green technology and use eco-friendly cleaning techniques and products
100% guaranteed customer satisfaction
Superior couch cleaning results with zero hassle
FAQs
DO PROFESSIONAL COUCH CLEANERS ALSO WORKING FOR US?
Yes, we have the best couch cleaners in Gold Coast. If your couch has difficult-to-remove stains, delicate fabric, or is really dirty, call us.
ARE YOU A CERTIFIED COMPANY?
Yes, our company is fully certified and skilled to provide the best lounge cleaning Gold Coast services. You may better keep your furniture throughout the year by hiring our professional cleaning company.
CAN UPHOLSTERY BE STEAM CLEANED?
Depending on the fabric, most upholstery can be steam cleaned. Steam cleaning is used to thoroughly clean and disinfect upholstery. So, call us to deep clean and sterilize your upholstery at least once a year.
HOW MUCH DOES COUCH CLEANING COST?
The cost of couch cleaning varies based on a number of criteria, including the size of the upholstery, the kind of fabric, the extent of soiling, and the cleaning method used. Professional couch cleaning can range in price from $50 to $300 per couch.
HOW LONG WILL UPHOLSTERY CLEANING TAKE?
The amount of time it takes to clean upholstery varies based on several factors, including the kind and condition of the fabric, the size of the item, and the cleaning method used. Usually, it takes 1-2 hours to clean a general-size upholstery.
Location: Gold Coast, QLD 4207, Australia