Certified Upholstery Cleaning Services In Bulimba
Maintaining neat and clean upholstery is very important. Here at Karls Couch Cleaning, we have an Upholstery Cleaning Bulimba team and we provide services for various types of upholstery like sofas, fabric wall panels, dining tables, chairs and other upholstered furnishings which require professional cleaning services to maintain their beauty and comfort.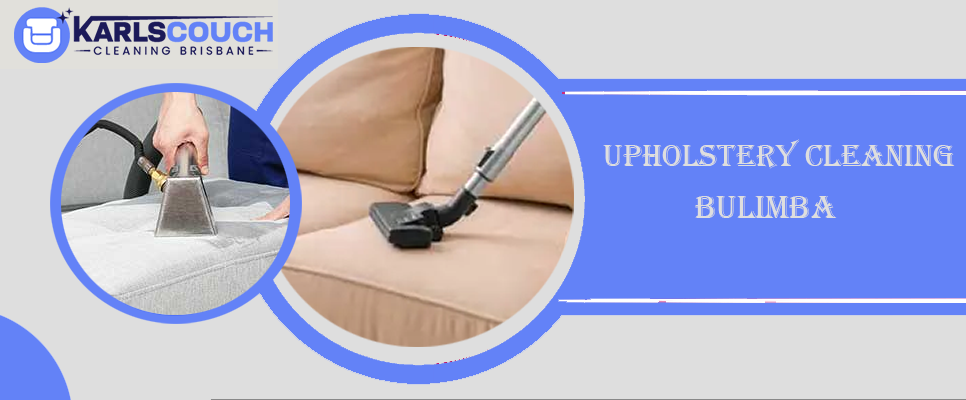 Regular maintenance for upholstery is necessary but you have to clean once or twice a year with professional services because the fabrics of the upholstery collect dust and succumb to stains and dirt. So, we with our latest steam cleaning strategy assure you that we clean your upholstery perfectly.
Same Day Upholstery Cleaning Services In Bulimba
Are you in a situation where you have to organize a significant event at your location without much time, yet your living room couch isn't looking its best? No worries! Our immediate and urgent couch cleaning services at Bulimba are at your service. With a team mostly comprised of local members, we can dispatch our skilled couch cleaners to any part of Bulimba within just 24 hours of your reservation. Here's what we offer on the day you book with us:
Advantages Of Our Door To Door Upholstery Cleaning Services In Bulimba
Sometimes many services damage the fabric of your upholstery or fade the colour and so you are very threatened by professionals. But never get threatened because all services are not the same, you will feel the difference when you try our Upholstery Cleaning Brisbane services once. It has many advantages, just take a look:
Almost no drying time needed: Our safe couch steam cleaning technology has a very less drying duration. Thus we save you time.
An effective upholstery cleaning solution: Our services effectively clean your upholstery which is packed with a range of safe cleaning kits and stain removal solutions. We guarantee you that all stains can be removed effectively.
Safe for all types of upholstery: The chemically free upholstery cleaning products used by our officials are safe and will not cause any damage. Whether you have leather upholstery or fabric upholstery, our products are safe.
No fabric shrinkage: Our low moisture upholstery cleaning service only cleans your upholstery completely without causing any shrinkage of the fabric. So, without any doubt in mind, you can use our upholstery cleaning services.
Increase the shelf life of your upholstery
With increased usage, dust and grime get embedded deep into the upholstery fibres which causes damage to the fibres and thus their life decreases. With the help of our cleaning services, we increase the shelf life of your upholstery.
Highly Standardised Upholstery Cleaning Process Followed By Our Company
Most people do not think that upholstery cleaning is an important process and so their upholstery becomes full of dust. When you clean it with our Sofa and Couch Cleaning Bulimba team, you will then get relief from this dust as we followed a highly standardised procedure for cleaning. The steps are as follows:
Inspection: This is always the first step in the cleaning process. Our technicians not only analyse the stains but also try to determine the source of stains which helps us to find the appropriate cleaning solution. We also consider the type of fabric and the amount of moisture present.
Vacuuming: The next step is vacuuming the entire process which helps in the loosening of dust, pet hair, food crumbs and other debris.
Pre-treating: In this step, the items are pre-treated with a stain removal product which helps us in lifting out any stains and spots. Our technicians know how to use the product completely and what chemicals to be used.
Hot water extraction or Steam cleaning: In this method, we use hot water and put it over the upholstery which kills bacteria and lifts off spots and also helps in the removal of bad odour.
Vacuuming again: This process is optional that is used when your upholstery does not tolerate moisture.
Deodorisation and sanitisation: We use special deodorising agents and sanitising agents which remove all the germs & bad smells which occur due to dust and allergens. As a result, you will get clean and fresh upholstery with our couch sanitisation service.
Fabric Scotchgard Protection: In this step, a protective layer is formed over your upholstered furniture which will act as a barrier against stains and dirt. The main advantage of this protective service is that it extends the life of your upholstery.
Post inspection: This is done to check that the whole process is completed in an effective way or not and to see if our customer is satisfied with the result or not.
Why Trust Us To Maintain Your Upholstery In Bulimba?
Furniture is a large investment and maintaining it like new always is a very big challenge especially when kids and pets are a part of your family. But don't feel stressed as our Upholstery Cleaning Bulimba team will help you to maintain your upholstery like new. You can trust us because of the following features:
Clear and honest pricing

Our prices are always transparent. We do not have any extra charges. When you come to us, we will provide you with a free quote that includes a complete price estimate. Hence, we have clear and honest pricing.

Expertise

We have technicians who have been working with us since the start of our company. Our company is 20 years old, so they also have an experience of 20 years.

Quality products and procedures

As per our promises, we do not use any harsh chemicals and products, so each and every product is safe for our family and loved ones. We take each and every measure to keep your home bacteria, dust and allergen free and not only this, but we also use such procedures which produce effective results very quickly.

Insured services
Our services are certified by higher-level authorities and we are also insured so that during the process if anything including your upholstery gets damaged by our cleaners, you will get the amount completely.
Service Area Coverage: Bulimba And Other Suburbs Of Brisbane
Our services are available in every area of Bulimba and other suburbs of Brisbane. A large number of households and offices use us for 100% satisfying upholstery cleaning. Our Couch and Sofa Cleaning Bulimba team is ready to serve you in just one call at 07 4243 4179. So, if you are looking for reliable local upholstery cleaners near you, don't forget to call us. If you are located in any of these suburbs, do not feel any hesitation to call us anytime.
FAQs
Is it worth cleaning a sofa?
Yes, Cleaning a sofa is worth it because it helps remove dirt, stains, and allergens, ensuring a cleaner and more comfortable living space. It also prolongs the life of the sofa, saving you money in the long run.
What types of upholstery materials do you clean?
We clean a wide range of materials, including fabric, leather, suede, and more.
Can you remove odours from the upholstery?
Yes, we can remove odours caused by pets, smoke, or spills.
Location: Bulimba, QLD 4171, Australia